DIY-ing over these socks!
Make your own sweater socks for Fall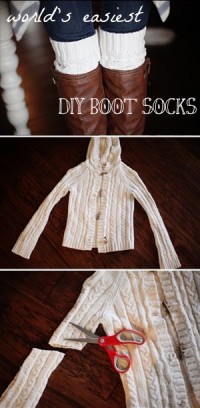 Fall is right around the corner and one of many fall trends is sweater socks with boots. You can buy boots with sweater socks already attached or you can buy sweater socks so you can put them with any boots you own, but that's not as fun as making them yourself.
This DIY is simple and easy, and will last a long time! All you need is an old chunky sweater (try to make it a neutral color so it goes with a lot more) and scissors.
First, lay your sweater on the floor and and cut the sleeves off. Hold one sleeve up to your leg and determine how long you want your sweater sock to be. You want it to peek out of the top of your boots and go a little over the knee. After that, go ahead and cut each sleeve to be the same size. The bottom of the sleeve should be the top of the sock. After you've cut your socks, go ahead and try them on. If it needs to be shorter, trim more material off little by little, so they don't end up too short.
When you're done you have one of the hottest fall trends and you made it all by yourself! Also it looks totally fabulous too.