Record Shows: Cardiac Browns Return?
Cleveland falls back down to 4th. Some Fans Having PTSD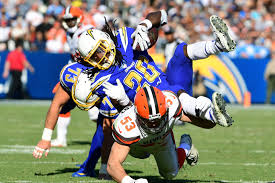 With the Cleveland Browns getting blown verses the Chargers, it looks like Cleveland Browns' fans are already giving up on Baker Mayfield and the Browns team. The Browns lost to the LA Chargers 38-14. The Browns should be 6-1 according to fans, but are 2-4-1 due to multiple problems on the Browns team. The team is now in 4th place, as the record shows, is sadly a known place for them.
The last time the Browns didn't finish in last of the AFC North was 8 years ago, back in 2010, when the Browns went 5-11, and finished in 3rd place. The Browns in 2010 barely finished in 3rd, as the Cincinnati Bengals finished in 4th with a record of 4-12. Cleveland's coach at the time was Eric Mangini, as the quarterback was Colt McCoy. But 3 years earlier, Cleveland went 10-6 with Romeo Crennel, but would just miss the playoffs. The Browns quarterback was Derek Anderson (who's starting this Sunday for the Bills against the Colts). And that would be the last winning season since 1994 with Bill Belichick before they moved to Baltimore a year later.
Currently, David Njoku is Cleveland's starting tight end beside David Fells and Seth DeValve. Njoku had a great day on Sunday, catching the only touchdown on the day. Njoku was picked 29th in round 1 of the 2017 draft. Njoku had 7 receptions for 55 yards, improving and showing up in time of need. Really, Njoku can help The Browns like Benjamin Watson did years ago.
Carlos Hyde. Nick Chubb. Duke Johnson. When have you ever seen a trio like this? I haven't. Anyway, the last time Cleveland had an explosive back like Chubb, was with Isaiah Crowell last year, but before that was with Peyton Hillis in the early 2010s.
Jabrill Peppers on Sunday was way more aggressive than normally. He almost broke out a couple runs to the house, but was sadly held back due to multiple missed blocks and penalties on special teams which needs to be fixed by the end of the season, because it's starting to get annoying for multiple Browns fans.
This team has a lot of potential and the Browns really have had this potential since last season's draft. And with this team, Cleveland can honestly go from an 0-16 team to making the wild card if lucky. Because right now 2018 in the NFL is looking really weird, but they can't do that if the offensive line doesn't block for Baker Mayfield and the running game.
During the game between the Browns and Chargers game, it looked like the Browns have gone back down to reality. Baker Mayfield has definitely gone back down to reality. After staying 5 games, Cleveland got hit in the face, by one of the best AFC teams in the NFL. Cleveland thought they had a franchise quarterback in Colt McCoy, Johnny Manziel, Brian Hoyer, and other quarterbacks that have just become back up QB's for other teams.
With Cleveland being blown out for the first time this season, it has to put head coach; Hue Jackson on the hot seat. Cleveland has two past head coaches in coordinators, Todd Haley and Greg Williams. Jackson is currently 3-34-1 with the Browns, and is most likely the worst head coach in history.
The Browns are facing a lot of injuries so far this season, losing Rashard Higgins, Joe Schobert, Rod Streater, James Burgess, and JC Tretter, as well as EJ Gaines. Higgins is a wide receiver for the Browns, who has had good chemistry with Baker Mayfield so far in the season. This is the time of need for receivers for Cleveland as earlier in the season got rid of Josh Gordon and Corey Coleman. Schobert is a middle linebacker, and one of the best at that. Schobert lead the league in tackles with 144, also being selected for the pro bowl.
Baker Mayfield can only do so much. That's it. I get he has legs, but you also have to block for him. And for a better offensive line, Joe Thomas should become coach for that o-line. Thomas has gone to 10 pro bowls out of his 11 year career. Thomas talks so high about Desmond Harrison and maybe that support would help push that whole line to be better.
With Tyrod Taylor out, then energy was explosive against the Jets in the second half of week 3's thursday night game. Baker Mayfield showed up and energize the team, helping the team get their first win in over 600 days, which is very sad. On Sunday against the Chargers, the team just lost hope when they were down 3 touchdowns, and really looked like they stopped trying. The defense even stopped trying, therefore allowing 38 points scored on them. And the strong side of this Browns team is the defense, but they just didn't look like themselves on Sunday. The lack of trying has also shown on the offense, as the receivers didn't really catch anything, except for David Njoku.
In the true fans eyes, there is still much potential that is just beyond their reach.  Perhaps coaching can get them there, but so far they haven't.