The March to Grand Nationals
Northmont Band Competes at Bands of America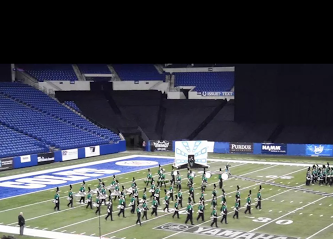 The marching band took the field for their final performance last Thursday at 3:45 pm inside Lucas Oil Stadium, in Indianapolis, Indiana. They were competing in the Bands of America competition, which brings bands from all over the United States together to compete against one another.
"I personally thought that run was the best run we have ever had as a whole," said sophomore Journey Thomason.
Even though the band felt good about their final run, they were not able to advance to the semi-finals.
"I thought the final run was the best show we've ever done. By the end, I was crying because it was my last performance and it was one of the best ones I've ever done," said senior Maria Kididis, who is part of the front ensemble and has been in marching band since she was in the eighth grade. "It was a great way to end the season."
Only 36 bands of the 94 made it to the semi-finals.
"I don't actually know what place we finished in or why we didn't advance to semi-finals. If I'd have to give a guess, I would say somewhere in the forties," said Band Director Mr. Andrew Brough.
The students realized their competition was tough.
"I feel like everyone including the band had this feeling in their stomach about how that night might have been our last shot doing that show. We all tried our hardest to have a great performance! No matter who was in the stands we did amazing! People who aren't even emotional almost cried, so that just shows how good we did," said freshman Dariona Taylor. "Yes, I was upset that we didn't make it, but there were 94 bands there and that's hard to compete against."
No matter what happened, the band members enjoyed the competition.
"I enjoyed it because, to me, it doesn't matter if we made semis or didn't make semis, it's still fun to go play in Lucas Oil Stadium and watch other bands do the same," said junior Owen Woellert, a member of the drum line.
Regardless of having to leave too soon, the students still had a great time.