Teal is the Deal
Teal Pumpkins on the Rise for the 2019 Halloween Season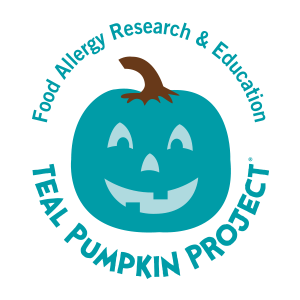 The teal pumpkins outside of friendly neighbors houses are not only for decoration, they also symbolize food allergy prevention. The pumpkins special meaning is meant to help kids everywhere stay away from the common food allergies in candy bars. According to Food Allergy Research and Education, or FARE,(FARE) one out of thirteen kids have a food allergy.  According to Taste of Home, (taste of home)"Traditional Halloween candy and chocolate treats are rife with common food allergens, including ingredients derived from wheat, eggs, soy, nuts, and milk." The most common food allergies are milk, eggs, peanuts, soy, wheat, tree nuts, fish, shellfish, and sesame. Parents across the country have started putting out pumpkins since the beginning of October. 
This idea came from FARE. They  started the project in 2018 but it hasn't stuck as much as they would have liked it to. However, this year, they have more funding and it has made it more recognizable for people who  weren't aware of it last year. They started spreading the word by giving out flyers and posting flyers up around neighborhoods. FARE has many projects going on, the most recent one is the teal pumpkin project. In 2017, FARE spoke at a grocery conference. At the grocery conference, they had discussed the idea of selling teal pumpkins and trick-or-treating baskets. The grocery stores agreed to help the FARE with their project; 20% of the profit goes to the FARE foundation for food allergy awareness. 
There are a couple things you could hand out to kids who have food allergies. FARE has a list on their website (non-food treats). Some substitutes for candy are glow sticks, bouncy balls, and slinkies. A good way to participate is to paint a teal pumpkin. Most of these items can be found at the local Dollar Store or Target. A few stores have taken the opportunity to sell teal pumpkins if people prefer not to paint it, target is currently selling teal pumpkins and teal trick-or-treating buckets.