Bolton's Book
John Bolton's Book Effects Trumps Impeachment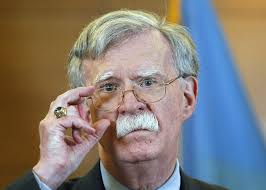 John Bolton was the National Security Advisor to Donald Trump before he was impeached and John Bolton had been removed from his position before Trump was impeached, Bolton wrote a book called "The Room Where It Happened: A White House Memoir." It will be released March, 17, 2020. John Bolton is a long time republican stalwart and an extremely hawkish national figure who has had roles in every Grand Old Party (GOP) administration since Ronald Reagan.
The book will have information about Trump's mistakes and Boltons notes while he worked for Trump. Trump has made the mistake of not releasing military to Ukraine until he was given information about the 2016 election with Hillary Clinton and Joe Biden. Trump denied Ukrain about 391 million in military funding for this information.
USA Today claims, "'I NEVER told John Bolton that the aid to Ukraine was tied to investigations into Democrats, including the Bidens,' Trump said in a tweet early Monday. 'In fact, he never complained about this at the time of his very public termination. If John Bolton said this, it was only to sell a book.'" New York Times claims, "Former foreign policy officials — including some who served in Republican administrations — said in interviews that Mr. Trump plays an unusual and, at times, disturbing role in high-profile criminal and sanction cases involving foreign governments."
Bolton's draft book recounts a conversation between him and Attorney General Bill Barr over mutual concerns that Trump was granting personal favors to Turkey and China. New York Times claims, "Mr. Erdogan's influence campaign is now under scrutiny again in Washington, following the disclosure that Mr. Trump's former national security adviser, John R. Bolton, reported in his forthcoming book his concern that the president was effectively granting personal favors to Mr. Erdogan and President Xi Jinping of China." Mr. Barr thinks that Turkey and China were connected through Trumps personal favors.
A Turkish man named Reza Zarrab was a gold trader accused of playing a big role in an effort by Halkbank to funnel over $10 billion in gold and cash to Iran. Trump was involved in the investigation and used his power to try to limit additional enforcement against Halkbank. New York Times claims, "'President Trump has been carrying water for President Erdogan and Turkey's state-owned Halkbank,' said Senator Ron Wyden of Oregon, the top Democrat on the finance committee".
"Every member of Congress should be profoundly alarmed that Donald Trump is trying to get the bank accused of the largest Iranian sanctions violation scheme in U.S. history off the hook because his authoritarian pal asked for a favor," said New York Times. Trump is trying to block the publication of Boltons book because the government claims it has classified information.