Mexico Deploys National Guards
National Guards Deployed To Cancun
Mexico deployed 1,500 troops to Cancun on November 18, 2021, resulting in an increase in violence within a couple days of deployment.
According to Yahoo!news, three other tourists were injured in that shooting. The additional security efforts happened on Dec. 1, 2021. One incident occurred Nov. 4, 2021 when a squad of armed men killed two suspected drug dealers on a beach in Puerto Morelos, south of Cancun, in broad daylight. Officials in Quintana Roo said authorities detected 12 gangs running street-level drug deals in Tulum and Puerto Morelos.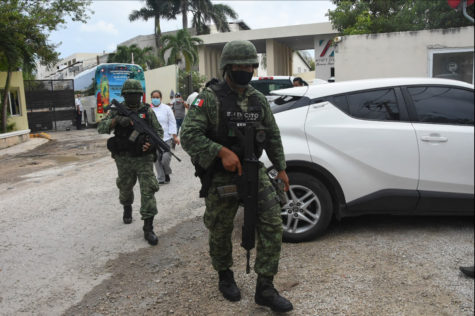 Travelawaits stated that, in late October, two tourists were killed and three were wounded in the Mexican Caribbean resort town of Tulum, near Cancun, when rival drug-dealing gangs exchanged gunfire. "That can't happen again," President Andrés Manuel López Obrador said this week, the Associated Press reports. "We have to avoid that happening. That's why there's this plan to reinforce security."
Dailymail also stated that in June, a 30-year-old woman identified as Kanya, from Kentucky, was shot and wounded after assassins arrived on jet skis and launched an attack that killed two workers inside a gift shop. According to Mexico's Secretary General of National Public Security, the state of Quintana Roo reported 442 murders between January and September 2021 compared with 463 over the same period last year. However, the Caribbean coast municipalities of Benito Juárez – home to Cancún – Puerto Morelos, Solidaridad and Tulum, whose resorts attract about 20 million visitors a year, were the deadliest with 379 murders compared to 383 homicides last year.