8 Year Old Boy Snuck Self Written and Illustrated Book Onto Library Shelf
Creative Young Author, Dillon Helbig, Snuck Book Into a Library in Boise, Idaho About His Christmas Adventure
While some people may try to sneak books off the library shelves, this young author managed to sneak one onto them. "I've been wanting to put a book in the library since I was five," says Dillon Helbig, an 8 year old boy living in Boise, Idaho. He has been writing books since he was five years old but has not released them into the world until late December, 2021.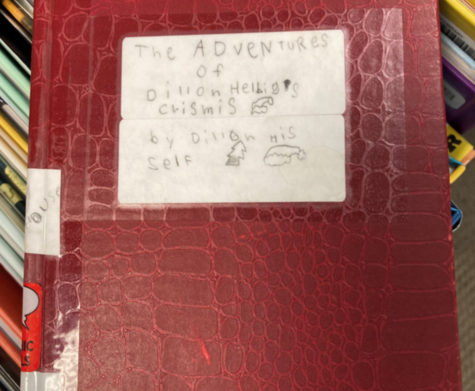 (Cover of "The Adventures of Dillon Helbig's Christmas, by Dillon Helbig his self." Pages in the book can be seen in this interview.)
The next time Dillon went to the library, he couldn't find his book, The Adventures of Dillon Helbig's Christmas. That night, he got scared and told his mom, Susan Helbig what happened. Susan called the library, trying to figure out what had happened to the book. Once it was found, the book was cataloged, so people may enjoy it as much as the librarians did. This book now has a 152 person waitlist.  
This 81 page masterpiece, signed "by Dillon His Self," can be found at Lake Hazel branch of the Ada CommunityLibrary in Boise, Idaho. "A boy finds himself magically transported to the North Pole. He's chased by a moose into a time portal that transports him back to 1621, where he joins the first Thanksgiving in colonial America. Just when things can't get any crazier, the boy is eaten by a giant turkey." says NPR while summarizing the book.
Who better to write a childrens' book than a creative young child? This heartwarming book is just as special as the little boy who made it while giving both hope and encouragement to authors around the world.