Student Loan Forgiveness Relief
Qualifying students may benefit from $20,000 relief
President Joe Biden has been proposing to congress a student loan forgiveness plan for the last month. On Monday, November 7th, the court of appeals let another blow to the plan. Business Insider reports that the plan included a 20,000$ relief to all those who qualified for the benefit.
The Biden administration stopped accepting applications for its relief on Friday after a federal district judge in Texas struck down its plan Thursday evening, calling it "unconstitutional.", according to writers Annie Nova and Dan Mangan for CNBC.
"The injunction will remain in effect until further order of this court or the Supreme Court of the United States," a three-judge panel of the appeals court said in its ruling also according to CNBC.
"We are confident in our legal authority for the student debt relief program and believe it is necessary to help borrowers most in need as they recover from the pandemic," White House Press Secretary Karine Jean-Pierre said.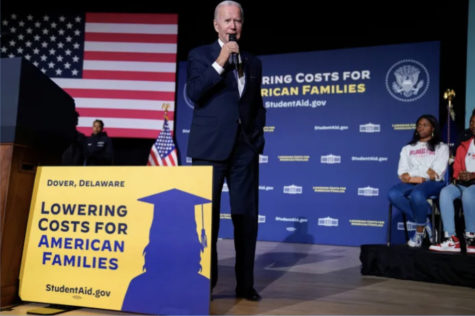 Two of the three judges — Ralph R. Erickson and Leonard Steven Grasz— were appointed by former President Donald J. Trump. The third, Bobby Shepherd, was appointed by former President George W. Bush. The Education Department estimated it charged nearly $22 billion in interest capitalization in fiscal year 2019 alone. President Joe Biden has vocalized concerns about this and will continue to attempt student loan forgiveness, according to Chris Quintana, writer for USA Today.