Ohio State vs. Oregon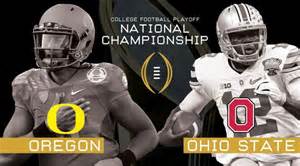 The first year of the college football playoffs seems to be a huge success. On New Years day (2) Oregon defeated (3) Florida State 59-20 in the Rose Bowl and (4) Ohio State took down (3) Alabama 42-35 in the Sugar Bowl, setting up the Ohio State Buckeyes vs. Oregon Ducks National Championship game. Both teams may have ended up in the same place, but Oregon and Ohio State have taken very different paths getting there.
Oregon (13-1) are the Pac-12 champions, only losing to Arizona in week five. Oregon has been very good the past few years in college football, they are known for their fast play and high performing offense. This year, they continued this trend with quarterback Marcus Mariota, who has thrown for over 4,000 yards, 40 passing touchdowns and rushed over 700 yards with 15 touchdowns. These stats are easily enough to land Mariota the Heisman Trophy and even have many questioning whether he may be the best quarterback in college football history.
Oregon also looked really impressive against FSU, the defending national champions by 40 points. However, some Oregon players may face suspension for taunting Florida State quarterback Jameis Winston about his alleged rape case after the game. A six second Vine was released of running back Kadi Benoit,  linebacker Torrodney Prevot, and an unknown player chanting "no means no" to the tune of the Florida State fight song. This upset many people due to the fact that the Ducks basketball team has had three players face the same charges as Winton.
Losing a Heisman caliber quarterback is season breaking, doing that not once but twice is unheard of, but that is exactly what Ohio State has done. Eleven days before their first game, they learned they were losing senior starting quarterback Braxton Miller to a shoulder injury. J.T. Barrett the freshman backup quarterback was throw in the fire. After not looking so good in an early loss to Virginia Tech he began to improve and even began to show up in Heisman conversation. In the last game of the regular season against Michigan, lightning struck twice. Barrett suffered a fractured ankle. Then, in stepped third string quarterback Cardale Jones who took over in the Big Ten Championship and beat Wisconsin 59-0. After that impressive win, they beat the number one team in the nation Alabama in the Sugar Bowl.
Much of the success of Ohio State is to the credit of head coach Urban Myer. He has coached many great quarterbacks like Tim Tebow and Alex Smith. However taking three different quarterbacks and turning them into stars might be his greatest accomplishment.
Also, it can not go without saying the performance of running back OSU Ezekiel Elliott, who set a Sugar Bowl record with 230 yards rushing and won the Sugar Bowl M.V.P. will be a huge factor in this game.
Also, Ohio State is 22-0 over the last four seasons when wide receiver Devin Smith catches for a touchdown.
Another fact that could affect the game is that Ohio State can practice or work for an unlimited amount of time while Oregon is limited to only 20 hours of football in a week. Oregon semester started on January 5th so they must follow NCAA in season rule. On the other hand, Ohio State's semester does not begin until January 12 so they can follow the offseason rules for this game.
The key to winning this game will be on the defensive side of the ball. Both teams offenses are pretty similar. Both have quarterbacks with really strong arms and have high powered running backs to even the attack. Ohio State's defense has taken down two of the three Heisman finalists in their last two games, leaving Wisconsin's running back Melvin Gordon to just 76 yards and 0 touchdowns, three weeks after he broke the NCAA single game record for the most running yards with 408 yards. Then, facing Alabama wide receiver Amiri Cooper. The only one left is Marcus Mariota. Oregon's defense took down former Heisman winner Jameis Winston which is a huge task in its own.
Ohio State has the longest winning streak in the nation with 12 wins and Oregon follows behind with 9 wins. The experts in Las Vegas have Oregon as a 7-point favorite. Neither team is used to losing very much but something must give. Ohio State is 8-0 against Oregon, so the question on everyone's minds is: Will history repeat itself or will Oregon gain their first national championship?