Flyers Fall Short of Sweet 16
Oklahoma ends Dayton's Post Season Dreams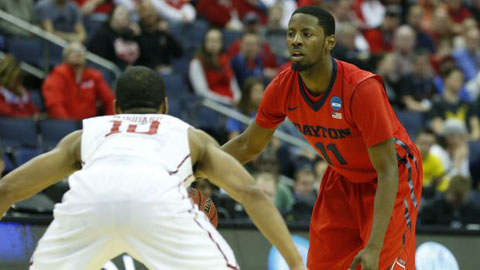 The Flyers, who ended their regular season with a 27-9 record, came close to their second straight Sweet 16 as an 11th seed. In a thrilling Round-of-32 game, the Dayton Flyers fell to a tough Oklahoma Sooners team by a score of 72-66.
Playing their sixth game in only ten days, it was a concern to most the Flyers may have been tired and this may have been a factor in their loss.
"I think to start the game our legs weren't under us. But I did think we fought hard to get back. And I think the rest of the game was much more like ourselves," said Flyers coach Archie Miller, courtesy of ESPN.
Although according to the players, being tired was not a factor for them during the game.
"Yeah, we just didn't make shots. Had nothing to do with us being tired. Just some shots didn't go in. It's basketball," Flyers leading scorer Jordan Sibert told ESPN. Sibert only finished with seven points during the game.
Dayton was led by Scoochie Smith with 16 points, Darrell Davis with 15 points, Kendall Pollard with 13 points, and Dyshawn Pierre with 10 points.
A big part of the loss was due to the fact that Dayton was held scoreless for 9:04 in the first half and then without a basket for 10:32 in the second half.
Although the men's team suffered an early exit this year, the women's team beat Kentucky 99-94 to make it to the program's first ever Sweet 16 appearance.