Senior Sign-Off: D.J. Hudson
A Reflection by the Assistant Editor-in-Chief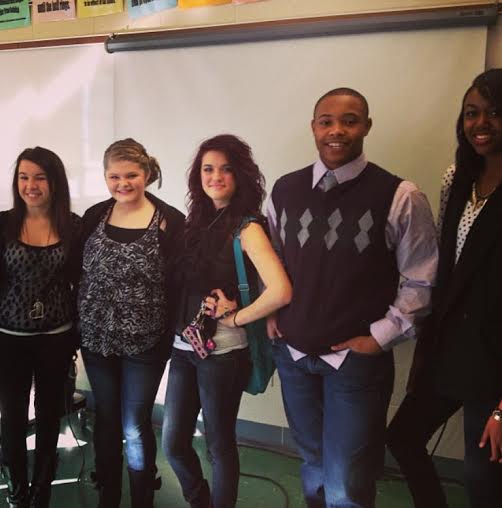 On the first day of school as a freshman, wide-eyed and scared, I walked into my first period to find seven other freshmen who all wondered the same thing: What was this journalism class all about? I read a book series in middle school about two sportswriting teens that went to many high-profile sporting events and solved mysteries. This sounded like a cool job to me, so while scheduling classes for high school I made sure Journalism was on my list. Other than that, I had no real idea of what to expect.
My first few weeks I enjoyed the class, but my passion didn't quite kick in yet. After a field trip to a writers' workshop at Otterbein University, I was completely inspired. I met a man who was a former a sportswriter for the Cincinnati Enquirer. The advice he gave me influences me to this day. That day became one of the most influential days of my life.
After the workshop, I decided to start my "Undercover Athlete" series of articles. These gave me some of my favorite memories during my time on the T-bolt Tribune. Personally, I have always cherished experiences and jumping in the water with the swim team or cheering on the sideline with the cheerleaders. The experiences this class gave me I could not have gotten without it and stories I can tell for years to come.
As we transitioned to a new advisor my junior year, I was admittedly skeptical, as most are when something abruptly changes. We changed our name to the Surge and launched this news site, basically starting from scratch. We changed everything… our style of writing, our editing process, we even had deadlines we had to meet.
Through everything we succeeded. We took something from the ground and made it relevant and trendy. We build something. We created a legacy. We have articles in a time capsule. The work everyone put into this is something to be proud of.
To Ms. Brannon, needless to say none of this is possible without your doing. What you were able to do with our small staff is incredible. Growing interest enough to have the class size we have now and to start a broadcast class, in addition, is insane. You deserve all the credit in the world. Also, I owe you an overdue thanks for being there for me on a personal level. Thank you for being there whenever I needed someone to talk to and being so understanding. As well as putting up with my grammar mistakes and just having the patience to edit them, you and Jaylin both.
Jaylin, thank you for inspiring me to find my voice. You are the person I strive to be, so strong and independent. You're such an incredible person and writer. We are all lucky to have you as editor. I honestly believe you will be one of the most successful people I know. You work so hard at this, and I am excited to read your work in the future.
Taylor, thank you for just being my friend. There isn't any possible way I would have met you without this class. Talking and joking around with you always made my day, regardless of what else was going on.
Alex, thank you for expanding my mind with your articles and debates, and continuing to just be the intelligent being you are. I've learned so much just by being around you.
All the underclassmen who all seem so excited every day to just do anything, your energy and fresh ideas you bring to the table can't be matched. Don't lose that passion. I'm so excited to see where you take Surge in the future. I'm ready to login in and catch up on the happenings of the community next year.
For all the seniors that joined this year and Rylie. I hope you guys enjoyed the experience. I've really enjoined reading your work, and thank you to anyone who supported me or read my articles.
Through this class, I've been given the opportunity to do the morning announcements. I realize that this is what want to continue doing with my future. I'm planning attend West Virginia University in the fall to study broadcast journalism. Doing things like the announcements has allowed me to come to this decision.
I honestly feel I'm a part of something special every time I look at this website. I feel like I'm a going to be an original member of something that will have a rich and plentiful history. I'm thankful for everything and every memory I've had being a part of this program.
After 40 published works (15 in T-bolt Tribune and 25 on Surge) in four years of journalism, and greeting everyone a good morning on the announcements for two years, this is my final article. I'm officially signing off as Assistant Editor-in-Chief of the Northmont Surge.