Giraffe Takes World By Storm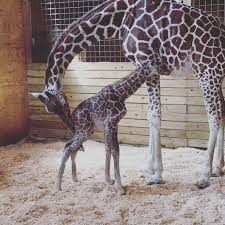 April, a 15-year-old giraffe living at Animal Adventure Park in Harpursville, New York, captured the attention of millions through social media when   Animal Adventure Park put a camera in the giraffe's cage when she had two months left of pregnancy. People could even set up text alerts to tell when April went into labor. For months, people have tuned in to watch the giraffe eat, sleep, and play…and possibly give birth.
Many thought the giraffe was a hoax and April wasn't really pregnant. But, in fact, it was not a hoax. Giraffes are pregnant for at least 13 months, according to National Geographic. April was supposed to have the baby mid-February, but didn't have it until April.
According to National Geographic, Giraffes are endangered of going extinct, and there are only  80,000 giraffes living. April had her baby boy on Saturday, April 15, and will keep him long enough to nurse before the baby is sent to another facility.
This is April's fourth calf and the first for her mate, Oliver. Oliver is a 4-year-old male giraffe who is kept separate from her and the child because male giraffes, who are called bulls, can be aggressive at times. April and Oliver are separated by a wooden pin with a small opening. Fans can see this in the live stream called the "Giraffe Cam." The Giraffe Cam will be live until Friday, April 21. The calf is also the first for the Animal Adventure Park (KENS5 Eyewitness News).
There is a 15-day contest going on now to name April's baby. People can vote for names or suggest names, with a donation of $1.
April has her own emojis and merchandise, which is available on her website aprilthegiraffe.com. The giraffe has been sponsored by brands such as Toys R Us and Babies R Us, whose mascot is a giraffe. 
According to Variety, The birth of April's baby brought in over 14 million views.