Waters Overflowing with Talent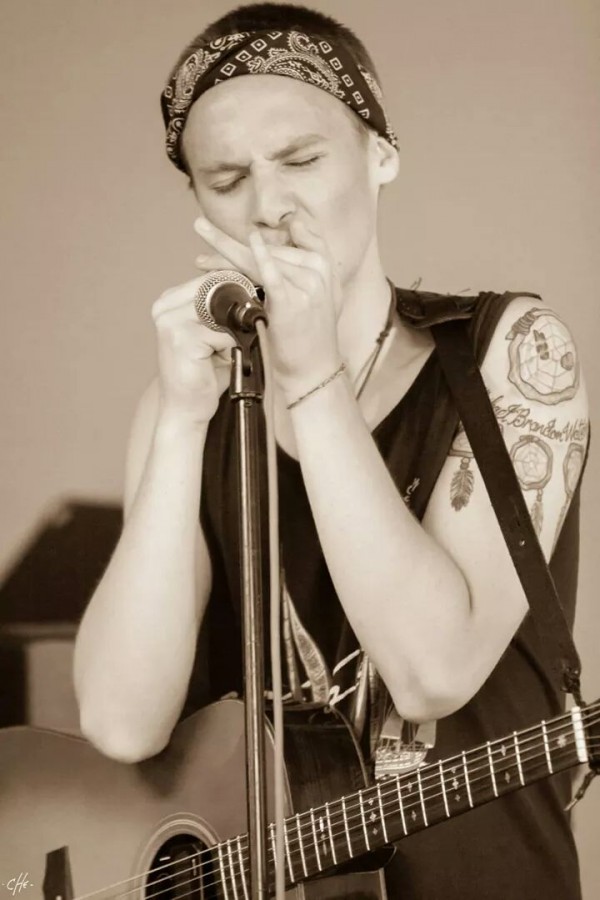 The halls of Northmont High School are filled with talented students. These students are overflowing with creativity and many express themselves through the arts. Among the most passionate of these students is senior Joe Waters.
Waters is a musician at Northmont who is not only skilled on the drums, guitar and harmonica, but is also a singer. He plays many instruments without favoring any one. When he's playing funk music he prefers the drums and when he's playing the blues he prefers his harmonica, but he loves everything in between as well.
Waters has been playing music for the majority of his life. Music became his positive outlet after his brother passed away when he was young. It all began with a harmonica from Cracker Barrel, and his first performance as a kid musician at the Trolley Stop.
He draws inspiration from everywhere.
"It [music] doesn't stop at the stage," Waters said.
Waters is inspired by what people say, what happens during the day, and the people he interacts with.
Being the dedicated musician that he is, Waters can be found playing music every day and performing at least two or three times a month. He will be performing at Ms. Snowden's wedding June 6, 2015.
Waters dreams of playing in the Ryman Auditorium in Nashville, Tennessee, and has goals of becoming a studio musician. He dreams of making awesome collaborations, specifically with Allison Krauss.
Regardless of whether or not he's in music, Waters wants to help improve people's lives through social work.
When Waters is not playing music, he is listening to music. If he could only listen to five artists for the rest of his life, his playlist would include John Mayer, Little Walter, Howlin' Wolf, BB King, and the band "Crosby Stills, Nash and Young."
Without music, Waters is not sure how he'd occupy his time.
"I'd probably be more focused in school, and more proactive. But I don't really know. It's hard. I've never been without music," said Waters.
Joe Waters is a talented and devoted artist, who genuinely cares about making quality music and having a positive impact on the lives of others.