The History of Black Panther
There's a New Hero in Town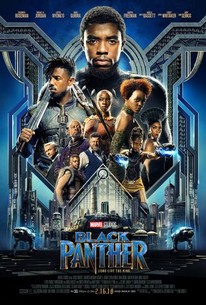 On Friday, February 16, Marvel released one of its most anticipated movies yet, "Black Panther" (variety.com).
BND.com, The character Black Panther was first introduced in 1966 in a Fantastic Four comic. Not too long after his first appearance in the comic, he got his own comic book series in 1966, which was created by Stan Lee and Jack Kirby. Since then, it has grown into one of the greatest heroes of African descent in the history of major comic book publishing. The Black Panther's appearances in comic book Jungle Action were written by Don McGregor. Black Panther was the first black comic book character to have his own comic book series (watchtheyard.com). Co-creator Stan Lee later changed the name of the character to the Black Leopard because some assumed the comic book was about the  Black Panther Party. It was eventually changed back to the original because readers simply did not care for the name Black Leopard. The Black Panther was not just a fictional character, to some he represented a strong, intelligent, and powerful character that many black comic book readers looked up to (watchtheyard.com).
According to CNBC,  "Black Panther" earned an estimated $290 million opening weekend. "'Black Panther' could become only the fourth movie in history to earn $100 million in its second weekend in U.S. theaters, before adjusting for inflation. The other films to achieve that feat are 'Star Wars: The Force Awakens,' 'Jurassic World' and Marvel's 'The Avengers,'" speculated Box Office Mojo. Marvel's "Black Panther" has made an estimated $520.1 million so far (cnbc.com).
Box office records aren't the only thing notable of the movie. According to Mashable.com, Marvel's "Black Panther" is the first black superhero to headline his own movie, just like his comic book series. "'Black Panther' became a bastion of inclusivity and empowerment for people of all colors in the audience," according to Promo Khosla, writer for mashable.com. Kayla Sutton, writer for  Black Girl Nerds, started a viral hashtag, #WhatBlackPantherMeansToMe, which has sparked a conversation about cultural representation in all types of media, and in Black Panther's case, Africa. Many have worn traditional African clothing to see Marvel's "Black Panther" (teenvogue.com).
Marvel's "Black Panther" has received a 97% rating on Rotten Tomatoes (rottentomatoes.com).