Gorillas and Chickens and Santa Claus, Oh My!
Two-Tailed Dog Party Runs for Parliament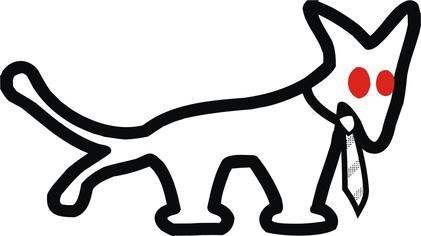 Hungarian elections are coming up and there is an emerging party running some peculiar candidates. The Two-Tailed Dog Party, a reference to the English saying as happy as a two-tailed dog, is a satirical Hungarian party formed in 2006. They are running 39 candidates for Hungarian parliament including a gorilla, a chicken, and Santa Claus (NPR).
The party who calls themselves the only party who makes sense has promised eternal life and free beer if they win. One candidate, József Tichy-Rács,  appeared on national TV in a chicken suit to discuss his campaign at one point clucking out the binary version of "free beer." The Hungarian news channel, Bemutatta, promised to give five minutes of airtime to each party, therefore, resulting in a host speaking to a chicken.
The party's website states that their primary objectives are "promoting active citizenship, creating a meaningful political dialogue, not a rhetorical blame-race,  [taking] over activities neglected by local authorities, and fostering a civic attitude where only concrete issues are addressed." They seek to achieve these goals through "street art, hacking, happening, guerilla gardening, renovation projects carried out in public spaces, newspapers, theater, film, computer games and music, and any other modes that may emerge in the future." The party is nontraditional, but has made lasting changes in their communities through these methods.
The party once brightly colored damaged sidewalks leading to their repair and is known for replanting flowers. Tichy-Rács once put up a street-crossing sign to help people cross safely and give new meaning to the chicken crossing the road (Newsweek).
While the Two-Tailed Dog Party may be a little strange, they still intend to win. Its founder, Gergley Kovacs, stated "You create a party to win" (Newsweek).