Nike Ad
Nike's Colin Kaepernick Ad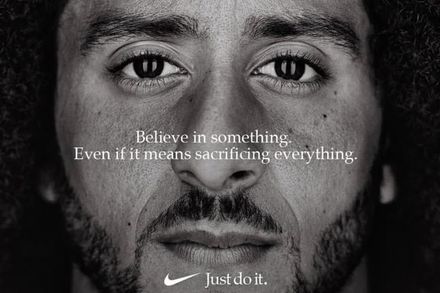 Last week Nike came out with an ad with controversial former NFL ( National Football League) quarter back for the Washington Redskins: Colin Kaepernick.
Keapernick is a former quarter back for the San Francisco 49ers, and for the past two years he's been in the new a lot for kneeling during the National Anthem. Keapernick said he was kneeling because he didn't like the police brutality on African Americans. This stirred up a lot of controversy as people felt like he was disrespecting the national anthem. This lead to teams not wanting him because they thought he would have been a distraction to the team.
A week ago, one of the NFL's biggest sponsors, Nike, released an advertisement with Kaepernick being the main face for it. This ad did not make everyone happy; a lot of people started burning their Nike clothes and shoes. It even lead to the city of Kenner, Louisiana to ban the purchase of Nike. After the ad came out, Nike's stock went down 2.7%.  The day after the ad came out but has since reached an all time high in the market.
With this being such a controversial topic, a lot of celebrities have shared their views on the subject. Professional basketball player Lebron James said he stands with Nike and Kaepernick. James has been signed with Nike since before he went to the NBA (National Basketball Association) and recently signed a lifetime deal with Nike. President Donald Trump said the ad sends a terrible message. What do you think?