First Time in a Long Time
The Cleveland Browns Defeat the New York Jets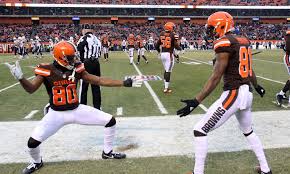 On Thursday, September 20, the Cleveland Browns hosted the New York Jets.
The game began at 8:30 central, and started off with the Jets scoring two consecutive touchdowns, putting the Jets up 14-0. After the Browns answered with a field goal, they pulled out their starting quarterback (Tyrod Taylor), and replaced him with the Browns first round pick; Baker Mayfield.
Mayfield stepped up big time for Cleveland, throwing 17 completions out of 23 passing attempts,and passing over 200 yards and electrified the offense. Cleveland held the Jets to just 3 second half points, with the defense stepping up big time; it gave the Browns offense a good opportunity to secure the comeback win.
The Browns week 3 win was the first time since November of 2015 that they were favored to win a game, and NFL record that a team does not want to have. With the win, their record will improve to 1-1-1 (1 win, 1 loss, and 1 tie) – the best record Cleveland has had in over 4 seasons.