That's Not Their Name
Celebrities Talk About Mispronunciation of Their Names.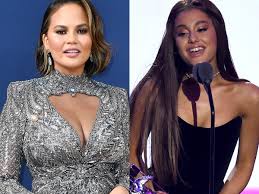 Recently, celebrities have been coming out saying people have been pronouncing their names wrong, this whole time.
On Friday, August 17, Ariana Grande had an interview with Beats 1 + Apple Music. In this almost three minute interview, the host, Ebro Darden, was asking Grande about her relationship with her now fiancé, Pete Davidson. In the interview, Darden asked Grande if she will have a hyphenated last name, (Grande-Davidson). In which she stated that she would have no problem with that, on top of saying that, she also said how the name would sound, and… well let's just say it wasn't what people were expecting. Grande is actually pronounced Grande [GrAn-dee]. Take a second to take that in. Grande then stated it was her brother who started pronouncing it the way most people have, Grande,  even though he doesn't even have the same last name as her; they have different dads (elle.com).
On the red carpet for the 7o annual Emmy awards, on Monday, September 17, Chrissy Teigen and John Legend were being interviewed by countless people who all had the same question for Teigen, "How do you pronounce your last name?" The question was sparked by a Twitter post, Teigen posted the day before the award show. In the post, she states, "'I'm tired of living this lie: it's 'Tie-gen.'" 'Isn't it, Mom?' 'Yep!' Teigen's mom exclaims in the background. 'I told you, it's 'Tie-gen.'" Well, there it is; it's pronounced Teigen [Tie-gen] (usatoday.com). So, yet another celebrity that has come out about their name, but both Grande and Teigen both said they actually don't mind the way people have been pronouncing their names.
Now, people have been pronouncing celebrity names wrong for forever now, and while some celebrities don't mind the mispronouncing, others do. One of these celebrities is Rihanna. She has been telling people how to pronounce her name for who knows how long now; she even goes as far as correcting people whenever she can. Just to clear it up, Rihanna is actually pronounced Rihanna [Ree-Ah-Na]. Honestly, Rihanna is over the mispronouncing of her name (teenvogue.com).
Why are celebrities coming out now though?  Perhaps they actually enjoy the mispronounced version better.