Mac Miller
Famous Rapper Dies at Age 26.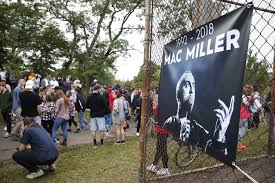 On September 7, 2018, Rapper, singer, and producer Malcolm James McCormick, also known by his stage name 'Mac Miller' was reported dead at age 26 from a suspected overdose.
Miller popped onto the scene with his first album in 2007 "But My Mackin Aint Easy".  Miller continued an explosive career releasing 19 separate EPs. Mac Miller proved himself to be one of the most hardworking and dedicated artists in the industry. Miller was once quoted as saying, "The number one reason why people give up so fast is because they tend to look at how far they still have to go, instead of how far they've gotten."

Millers fans weren't the only ones heartbroken over millers death. Many artists were also affected by millers death. One of the most affected was Millers ex-girlfriend Singer Ariana Grande. Grande and Miller dated back in 2012 then broke up later that year. They then became official again in 2016  for several years. After Millers death Grande wrote, "I adored you from the day I met you when I was nineteen and I always will. I can't believe you aren't here anymore. I really can't wrap my head around it. we talked about this. so many times. I'm so mad, I'm so sad I don't know what to do."
On Tuesday, September 11 a vigil was held at Pittsburgh's Blue Slide Park, for which Miller named his debut album.