Goodbye & Good Riddance
Upcoming SoundCloud Juice Wrld Releases his First Studio Album.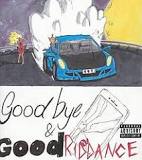 Jarad Higgins, also known by his stage name "Juice  Wrld", has released his first studio album titled Goodbye & Good Riddance. Higgins is 19 making him apart of the new age of upcoming SoundCloud rappers
The album was released on May 23, 2018. The album debuted at 15 on Billboard top 100. The rookie album sold 39,000 in the first week. By September the album had reached over 600,000 sales.
Juice Wrld's hit single "Lucid Dreams" has recently reached 2 on the Billboard top charts. Juice Wrld has been steadily rising in the hip-hop community getting a lot of respect from many famous artists. In an interview about Goodbye and Good riddance, he explained, "I'm just trying to make music to help people through their situations and tell them about some of my own. It's all genuine, so I think that's what adds to it."
Along with Trippie Redd, Juice Wrld has worked with many other artists of a higher standard than him such as Lil Uzi, Ski Mask the Slump God, and Lil Yachty. Although he has only released music with one of these artists, he has been seen recording and working on what could possibly be future projects with each of these artists. He has been recently seen working on music with rapper Trippie Redd on famous youtube Adam22's channel.
Juice Wrld is currently signed to Interscope records and is continuing to make music and try to make a name for himself in the rap game.