Black Ops 4
Controversial Game Modes Part of Latest Installment in Black Ops Series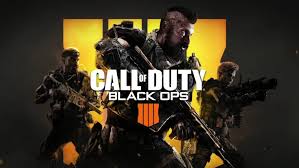 On Thursday, October 12, Treyarch released their 4 installment in the Call of Duty Black Ops series. The new installment has had a lot of fans excited and also skeptical. "I'm really excited for Black Ops 4. I think it's gonna be amazing," said Seth "Scump" Abner, captain of last season's Call of Duty champions (in Infinite Warfare), OpTic Gaming. The game does not offer a campaign mode which has been available in every Call of Duty game before it.
"Not having a campaign mode in Call of Duty: Black Ops 4 was ultimately a wise decision by Treyarch Studios.  Since, at the end of it all, it's all about online multiplayer" said Luis Tirado of apptrigger.com. 
The absence of a campaign comes a new game mode titled 'Blackout'. Blackout mode is Call of Duty's version of battle royale. Battle Royale is a game mode in which a player is either by themselves, with another player, or with a squad or group of 4 players. The objective is to be the last ones alive while trying to survive closing storm which kills the players slowly, while also having to fend off other players trying to do the same. This new game mode has been controversial among new and old players with mixed opinions.
In my opinion, Call of Duty Black Ops 4 is a contender for one of the best Call of Duty games ever released. The absence of a campaign, while annoying, also transitions the focus to the online portion of the game.  This is helpful considering it was the more popular part of past games. Blackout mode it is one of, if not the best, battle royale game on the market to date. The game has a perfect blend of Call of Duty play style while implementing many aspects of other battle royale games such as Fortnite and PUBG.
The zombie mode, which has been apart of Call of Duty games since its first appearance in Call of Duty World at War, is outstanding. Even though they do not have some perks that many fans loved such as 'Juggernog' they make up for it with larger health bars and immersive and fun gameplay. The multiplayer is a lot like other Call of Duty's in the past, but the implementation of new game modes and specialist makes it just that much more fun and exciting.
In conclusion, Call of Duty Black Ops 4 is great and would recommend any gamer or lover of the series to pick it up and start playing today.