The Greatest Football Player to Never Win a Super Bowl?
Hall of Fame Quarterback Dan Marino's Ring-less Career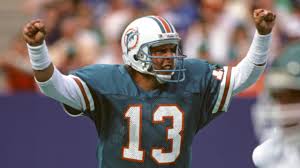 From college prodigy at Pittsburgh University, to a first round pick in the 1983 draft, hall of farmer Dan Marino is considered one of the best NFL athletes to never win a Super Bowl.
In Marino's rookie year, he played in only 11 games, and threw for 20 touchdowns, while only throwing 6 interceptions. Showing signs of potential, Marino would start all 16 games the following year after being named the Miami Dolphins starting quarterback. He shattered records in his second year (most touchdowns in a season and over 5,000 passing yards), throwing for 48 touchdowns and 17 picks. Marino threw more touchdowns in his second year in the NFL than hall of fame quarterbacks Joe Montana, Troy Aikman, John Elway, Jim Kelly, Steve Young, and Brett Favre ever threw for in a season. That year the Dolphins would appear in Super Bowl XIX and play against Joe Montana and the 49ers. Miami got blown out 38-16. Since then, the Dolphins still have not been to another Super Bowl.
While not making it to the big game ever again, Dan Marino still had an iconic career the following years. Marino was a 9 time pro bowl select,  the 1984 Most Valuable Player award, the 1994 Comeback Player of the year, and 1998 Walter Payton Man of The Year award. Marino led the Dolphins to the post season 10 times in his 16 year career, making it to 18 playoff games.
Marino retired with the Miami Dolphins, playing his full NFL career with the team. Throwing for 420 touchdowns (5th of all-time), over 61,000 yards (5th of all-time), and a quarterback rating of 86.4, making Marino the greatest player in NFL history to never win a Super Bowl.