Last Meetings
Lebron and Wade Battle One Last Time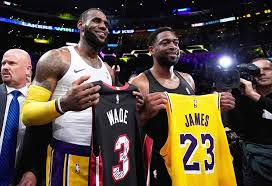 On Monday December, 10 a scheduled game between the Los Angels Lakers and Miami Heat was just more than a game. This game was the last meeting between Lakers small forward Lebron James and Heat shooting guard Dwyane Wade. James and Wade have been best friends since they both got drafted back in 2003; James was the first overall pick taken by the Cleveland Cavaliers, Wade was taken 5th by Miami Heat.
Wade and James for the first seven years of their career were competing on different sides of the floor and both seen as top 10 players in the NBA scorching the league. James averaged 27.8 points, 7.0 assists, and 7.0 rebounds. Wade averaged 25.4 points, 6.6 assists, and 4.9 rebounds. Given their great performances they had different starts to their career. Wade started making the playoffs from his rookie year. James didn't make the playoffs till 2006 the same season Wade put on an all-time performance in the finals that brought the Miami Heat a championship and a finals MVP. But during those seven years, that's the most success any of them made in the playoffs. A lot of that is due to Miami Heat and Wade being injured a lot, and Cavaliers management not putting a lot of help around James. The most success James had in those years was making the finals in 2007 and unfortunately getting swept.
With a lack of playoff success and not wanting to waste their prime James and Wade in the summer of 2010 decided to join forces in Miami. This move was seemingly hated by everyone, fans of the Cavaliers felt betrayed and a lot of them burned his jersey wrote him off saying he was talking the easy way out. People were saying they were taking the easy way out because not only was it James and Wade they also added top 5 power forward Chris Bosh from the Raptors. Bosh was taken 4th in the same draft as Wade and James so they officially had a big three in Miami. That Miami Heat team went to 4 straight finals winning back to back championships in 2012 and 2013. During these four years James credits Wade for teaching him how to lead a winning team. What James learned from Wade would propel him into returning to Cleveland in 2014, and finally leading them to winning a title in 2016.
James and Wade would eventually team up again at Cleveland in the 2017-18 season. When they met up it wasn't the same Wade had lost most of his explosiveness and athleticism that made him good in his prime, due to age and a lot of knee injuries. Halfway through the season Wade was traded back to the Heat. During this offseason after James signed with the Lakers and Wade said this would be his last season. That means this was going to be their last time on the court together. This game Lakers won; James had 28 points, 9 rebounds and 12 assists and Wade had 15 points, 5 rebounds and 10 assists. At the end of the game James and Wade hugged each other and traded jerseys. James and Wade played against each other 31 times; James won 16 of those times there was no holding back on the court when they played. During those games James averaged 28.5 points, 7.5 assist and 5.7 rebounds and Wade averaged 25.4 points, 5.9 assist and 4.9 rebounds.
James and Wades friendship means more than basketball. Their families went on vacations together, they help start a production company together and they promise to stay working together on other works after they retire.