Going… Going… Gone!!… Again
Rapper Collaborates with Shoe Company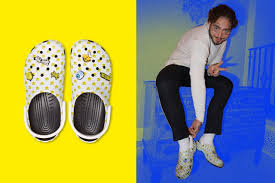 Post Malone is an American rapper who made it big with his debut single "White Iverson." Although that was the first song that got him globally recognized, his songs "Congratulations" and "Rock Star" quickly took the charts (IMDB.com).
Back on Thursday, November 1, Malone released his first collaboration with Crocs. Within 10 minutes, the Crocs had sold out (xxlmag.com). On Tuesday, December 11, Malone released his second collaboration pair of Crocs, which also sold out in minutes. Malone's first pair was a neon yellow clog and the new pair is white with a yellow devil character. Both Crocs were on sale for $59.99  (CNN.com). According to HypeBeast, Malone has teased a Fuggler Plush, a character created by Malone on his Instagram, with Target. The plushes are available now online and in-store for a limited time.
Malone has had an eventful year, besides having both his Croc collaborations selling out; He also released "Better Now," a breakup song that has moved up the charts earlier this year, and he has also survived a car crash and an emergency plane landing earlier this year as well (CNN.com). His new single "Sunflower" is on the soundtrack for the new Spider-Man movie: Spider-Man: Into the Spider-Verse and available now (billboard.com).
There is no word if Malone will do another collaboration with Crocs. Crocs have always been a questionable fashion choice. One thing is for sure, Malone saved Crocs. Crocs announced that in August they may have to go out of business due to no one buying Crocs anymore (usatoday.com). There is no exact number of Crocs sold by Malone's collaboration or the amount of money they made.