U-Korner: First Halloween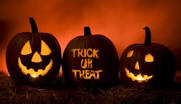 Can you imagine a world without  Halloween?  Well for me it is very easy because in Ukraine we do not celebrate All Saints' Day. And yes, we are normal people.
In Ukraine we have another celebration which is called Day of the Dead. This day takes place after Easter and looks like Mexican Day of the Dead. Weird? I know. But, it is true. Ukrainian children usually don't go trick or treating and when somebody does people look at them like they are from another planet.
So, it was my first real American Halloween. And of course I went trick or treating. First thing that I noticed is that not everyone takes part in this celebration even here in America. But most of people were so friendly and gave us a lot of candy. I was impressed by decorations and creativity of my neighbors. They are so nice.
All of the children were in different costumes and with facepaint, which was really cool and made it a mysterious atmosphere. Like an exchange student from ASSE organization, I can say that it was great experience to be a part of this little part of American life. It was very cold and rainy but it didn't stop anybody.
There were so many events and I physically couldn't do everything. And I think I saw enough to say that Halloween is an event that everybody should to see at least one time in life.