Bolts on The Rise
Get to know Various Musical Artists at Northmont
Artists Name: Lil Tali
Tali has been making music since around June of 2018. Since then has grown exponentially as an artist. Tali gets his inspiration from artists such as Lil Wayne, Lil Uzi, and Juice Wrld. All artists who have came from small beginnings and grew to become worldwide icons. Tali has his own style that makes him unique. Talis goals and hopes from music are to become rich and be able to have his parents quit their jobs and not have to work.
Tracks- In my bag

Artists Name $incere
$incere has been writing music since the age of 6-7. He began recording around 2015. He released his first song on Soundcloud titled 9ine Wave which featured Dayton rapper Lil Fargo. This became one of his most famous songs now at 16.5k plays on Soundcloud and the release of a music video on September 26, 2016, that reached 5.6k views. $inceres favorite songs that he's released are Still In The Morning and New York. Music has always been $inceres dream he describes his relationship with music as his "Second girlfriend". An artist he relates to most is Kay Ivory $inceres friend and fellow rapper who's featured on many songs such as "Dontmakeasound" and "Houston". $inceres future goals are to "Wake up the masses" and "Lead the youth".
You can find this artist on soundcloud: $incere
Popular tracks- 9ine wave, Houston, Aquafina, etc.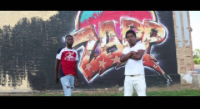 Artist Name: CFO Hustle
CFO has been making music for a little over a year. Since then he has released multiple singles, features, and other projects. CFO says his inspiration is to be able to watch his kids grow up. CFO most relates his music to soul rap. His biggest dream in life is to become rich and keep making music. CFO has many projects that he plans to release for years to come.
Tracks/Albums- Tell You My Story (mixtape), Assassination (single), Light Show(song) featuring Mike Tenna
You can find his music on Soundcloud under the name: CFO Hustle
Artist Name: Chaos1.0

Chaos1.0 has been making music since August last year; with the release of his first song "2nd story window". Since that song, Chaos1.0 has gotten big in the Northmont community with people all around the Englewood and Clayton area anticipating his every release.  Chaos1.0 says his inspiration is curiosity he always wants to try something different. Chaos1.0 most relates his music to Childish Gambino from his song "Sick Boi" off his album Awaken my love. He also draws comparisons from Kanye West, Saba, Andre 300, Lil Wayne, Mac Miller, J. Cole, Earthgang, and Isaiah Rashad. Chaos1.0 future goals are the best version of himself he could be, and to inspire others to do the same. Chas1.0 doesn't know about any future projects he will do but plans to drop a lot of music soon.
Popular Tracks/Albums- Dragon Tales featuring KJ Abs(song), Bamboo featuring Mike Tenna and CFO Hustle(song), Awkwardly Awesome (album)
You can find his music on soundcloud, spotify, itunes and applemusic under the name Chaos1.0.