Legendary Disfunction
Just another season for Pittsburgh?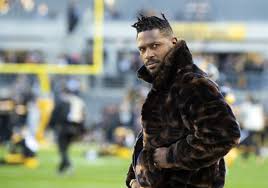 With the ending of the 2018 NFL season, and the opening of the 2019 year there has been some drama coming out of Pittsburgh. And this time, it seems to be more than just the normal drama people hear coming out of the NFL's drama hot spot: the Pittsburgh Steelers. This time of the season it's not former Pittsburgh Steelers running back: Le'veon Bell, it's Antonio Brown. Bell was one of the major Steelers roadblocks early in this season, and for Brown to blow up like he did in practice going into arguably the biggest week of the season, week 17; it doesn't help the mindset nor culture for the future.
It was revealed during a practice, Brown was emotional during practice and threw footballs at Steelers quarterback Ben Roethlisberger. Brown has also skipped practices, meetings, and week 17's Sunday walkthrough. Pittsburgh hiding this situation claims Brown on IR with an injury as of a reason they didn't play Brown in their game against the Cincinnati Bengals.
Big Ben Roethlisberger has been revealed to have criticized Brown during the practice when Brown supposedly made the wrong route to start the whole outrage. And while Brown may be leaving, Roethlisberger is getting an extension with the team because it's easy to replace a number one receiver compared to replacing a future hall of fame quarterback. The supposed 'captain' said 'Get him [Brown] out of here. Get somebody else in there,' and this whole situation could be on both players.
Adding to this story, Brown hasn't helped himself by having a Twitter conversation with the San Francisco 49ers tight end: George Kittle. And with being reported on the 1 of January, Brown has asked for a trade. Now it looks Pittsburgh is overlooking deals to trade Brown and fans are creating all kinds of situations. Players are as well.
Jarvis Landry of the Cleveland Browns has posted a picture of him with Bell and Brown from a pro bowl practice with a caption of "stay woke". As a Browns fan, I would like to cross ourselves of that list of teams Brown could possibly go to, simply because of how the star wide receiver has acted in his past.
Brown in the 2018 season has lead the league in receiving touchdowns with 15. His controversial quarterback Big Ben has lead the league with 5129 passing yards this season, which Brown has gained 1297 of those passing yards. Brown's counterpart, could also be Brown's replacement in the steel city, Juju Smith-Schuster has gained 1426 of those passing yards for 7 touchdowns.
With the season coming to a close in early February as the NFL Playoffs go on, there is no current word on if Brown will play next season.