Breakaway
Columbus Hosts Breakaway Music Festival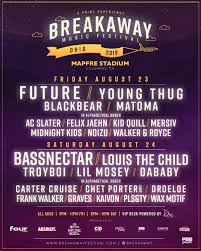 On August 23 and 24, Columbus, Ohio hosted Breakaway, an annual music festival that features famous artists from various genres of music, such as EDM, Pop, Hip-Hop, ect. The event was held outside of MAPFRE Stadium. 
Breakaway first started back in 2013, presented as a 2 day music festival from the minds of the concert and festival promotion company Prime Social. The original event was held in Columbus, Ohio and Dallas, Texas, splitting the days and performances between the two. According to a  Billboard article published in 2013 Prime Social co-founder Adam Lynn explains how he "expects the concept to grow to more days, and more cities, with 'baby steps' being the credo." He states that the idea is to not keep these as single-day events. Now, in 2019, Breakaway has grown to become a multi-day performance event, held in multiple states across the country.
"I went last year and so far I haven't been disappointed, it's always a great time with some great people," said 17-year-old Thuc Pham.
Day one of Breakaway 2019 in Ohio featured performances by artists Future, Young Thug, Blackbear, and Matoma. The gates opened around 4pm, kicking off the first sets of the day. The festival consisted of two stages: the main stage and the Corona Beach stage. Future ended the night performing many of his best hits such as "Mask Off", and "Jumpman". He finished off the first night with a display of fireworks.
In between the stages were various food and merchandise vendors as well as multiple alcoholic beverage vendors. The vendors that sponsored the events consisted of Four Loko, Donatos, Corona and many more. Other sponsors included PlayStation, Peta, Marines, ect.
"By the time future was on stage all the space around us had been filled," said senior Aaron Wilkinson, a student at Wayne High school.
The headliners for day 2 included famous EDM artists such as Troyboi, Bassnectar, and Louis the Child. As well as a performance by up and coming Hip-Hop artist, Lil Mosey. By the time the headliners were about to start, the festival began to fill with people stretching the line into the MAPFRE stadium parking lot. Bassnectar's ending set was complete with a light show, confetti, and was performed on a massive stage with classic, psychedelic-like visuals.
"Bassnectar is always amazing, he's the perfect person to end such an amazing weekend" said Concert attendee 19-year-old Angelica Scaffi. 
In the end, Breakaway 2019 for Columbus Ohio seemed to be a success with no weather delays, no cancellations, and a very satisfied crowd. Around 65,000 people attended Breakaway this year. Breakaway will return in October on the 4&5 in Nashville Tennessee and on the 11&12 in Charlotte, North Carolina.