A Wild Ride
Travis Scott is the Subject of a New Netflix Documentary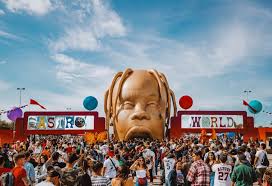 On August 28, 2019, Producer Angus Wall and Travis Scott released their new documentary on Netflix titled "Look Mom I Can Fly." The documentary is based around Travis's upbringing, extravagant lifestyle, and album/tour titled Astroworld.
"It was by far one of the best concerts I've ever been to," said senior, Austin Smith.
One of the main focuses of the documentary was "Astroworld." "Astroworld" is Travis Scott's third studio album which was released on August 3, 2018. The documentary focuses mainly on the process that went into making the album and also highlights the insanity of the tour that followed. Some of the songs that are shown being produced/written include his hit singles, "Sicko Mode," "No Bystanders," and many more. The title of the album,"Astroworld," was named after a theme park from Travis's childhood that went by the same name. Travis also held a music festival that took place across the street from where the old amusement park once stood. 
"Travis Scott is hands down the best performer of our generation," said Junior Kyle Sendelbach. 

A major highlight in the documentary is the insanity of Travis's concerts as well as the extents that his fans are willing to go. Travis is known for being one of the greatest performers of this generation and a large reason for this is because of his ability to hype up a crowd. However, because of this, his performances are usually met with visits from paramedics and police.  
"It shows how crazy the ragers are," said Senior Nick Newman.

The Documentary shows off Travis's many accomplishments. Among these accomplishments included 3 Grammy nominations, a Super Bowl halftime show, and receiving an entire day/holiday dedicated to himself and "Astroworld."
"He deserves all the hype he gets," said Senior Kevin Zile.
The Documentary has a total run time of an hour and twenty-four minutes, and received a 6.4 out of 10 on IMDb.