Let's See Them Aliens
What Really Happened at Area 51
On Friday, September 20, thousands of people showed up at the gates of the U.S. military base, Area 51. It all started with one FaceBook post by Matty Roberts, a college student from California, creating the joke event on FaceBook called "Storm Area 51, They Can't Stop All of Us." According to CNN, the event was made as a joke after Roberts listened to podcaster Joe Rogan interview Area 51 whistleblower Bob Lazar and filmmaker Jeremy Corbell about alien spacecrafts. The internet joke blew up, one FaceBook user stated, "If we all hit our vapes at the same time, we can use it as cloud cover so they won't see us coming." The description of the FaceBook event says, "We will all meet up at the Area 51 Alien Center tourist attraction and coordinate our entry. If we [N]aruto run, we can move faster than their bullets. Lets see them aliens." Naruto running is, "…a style of running in which person or character runs leaning forward with their arms stretched out behind them."   The running formation stems from the anime character Naruto Uzumaki from the anime Naruto. Although the event was started as a joke, some people took it more seriously and actually went to storm the military base.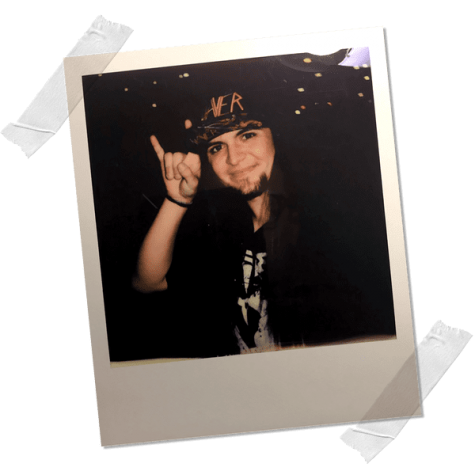 About 75 people arrived on Friday, 1,500 people attended nearby festivals late Thursday.  Band "Wily Savage" played music after dark for several hours near the Little A'Le'Inn in Rachel, Nevada.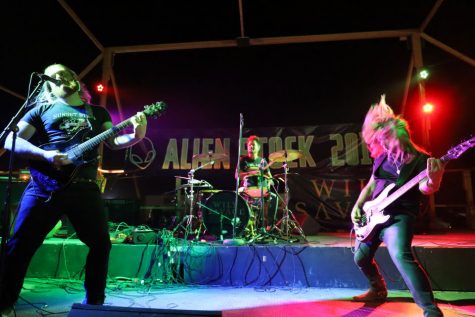 Two million people marked that they were attending on the "Storm Area 51, They Can't Stop All of Us" event on FaceBook, but in reality only about 3,000 people showed up to Rachel, Nevada, and only about 75 people made their way outside the gates of Area 51. The U.S. Air Force however took the event extremely seriously, expecting many more people to show up. Spokeswoman Laura McAndrews told The Washington Post, "[Area 51] is an open training range for the U.S. Air Force, and we would discourage anyone from trying to come into the area where we train American armed forces. The U.S. Air Force always stands ready to protect American and it's assets." Many different groups of people showed up to the Area 51 raid, one man brought a plunger with him, earning the appropriate title of "Plunger Guy". At 3 A.M., he raised his plunger in the air and led a group of Naruto runners toward the Area 51 barricade as a "trial run". Plunger Guy's real name is Gary Winthorpe from Ohio. He told FOX 5 KVVV-TV, "We came out here to find the truth about what they're hiding. We don't know if it's aliens, we don't know if it's time travel, we don't know if there's minions in there. We're gonna plunge the truth." Although Winthorpe seemed excited to learn what was beyond the gates of Area 51, most of the people who attended did not have any plans on actually storming the base.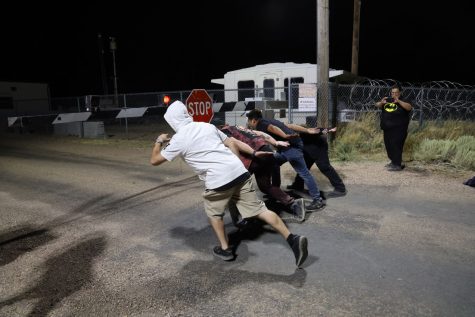 At an Area 51 celebration at the Downtown Las Vegas Event Center, Las Vegas resident Juan Alvarado told Insider, "I would like to, but I have to got to go to work tomorrow." One woman gave reporter Jamie Lee Curtis Taete of Vice a flyer for an organization called Snow Stone Studio, which believed that Area 51 is hiding "The Second Coming of Jesus." Many companies took advantage of the popular meme, companies like Arby's and Budweiser sold limited-time-only Area 51 products. There was a "Storm Area 51 Basecamp" event set up outside of Hiko, Nevada, which was where many attendees were staying. The setup was selling goodies such as T-shirts, hats, posters, and "alien poop" for just ten dollars, (the "alien poop" was actually just rocks). They were also selling "Alien Embryos", which were just geodes.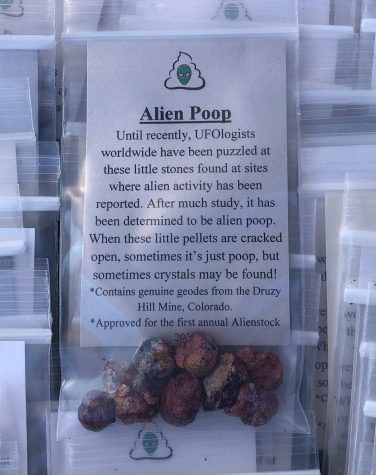 In the end, five people were arrested for "indecent exposure" and "alcohol-related" incidents in Rachel and Hiko, Nevada.