Giving Up Isn't An Option
October Is Breast Cancer Awareness Month
Women are more frequent to get breast cancer than men are. One of eight women get breast cancer, men being one out of a thousand. More dense breasts have six times more chances of getting breast cancer. Breast cancer cases are 62% of the time diagnosed at a localized stage, for which the 5-year survival rate is 99%. This year, 41,760 women were estimated to pass away from breast cancer within the U.S. An estimated 2,670 men were diagnosed with breast cancer this year in the United States and approximately 500 will die.
There are thankfully 3.5 million cancer survivors in America, winning their fight. On average, every 2 minutes a woman is diagnosed with breast cancer in the United States. Although in recent years, there has been a gradual decrease in breast cancer for women at the age 50 and older. And with more awareness, better equipment, and more treatment, death rates have decreased since the 1990's. "I can't say there are no regrets, but it would be very hard for me to move on if I classed that as a regret," the star continued. "So I just have to be as philosophical about it as I can. You've got to accept where you are and get on with it." the British pop singer and breast cancer survivor Kylie Minogue told the British Sunday Express, on her having to deal with cancer rather than being able to be a mother.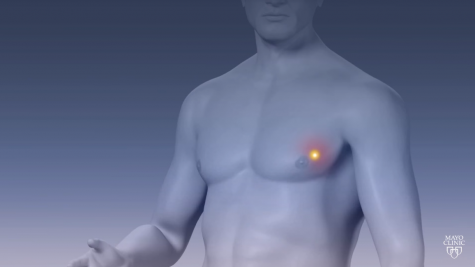 Because men aren't as likely to get breast cancer as women, Less than one percent of all breast cancer cases develop in men, and only one in a thousand men will ever be diagnosed with breast cancer.  However men carry a higher mortality than women do, primarily because awareness among men is less and they are less likely to assume a lump is breast cancer, which can cause a delay in seeking treatment. 
A male child of a man with breast cancer who inherits the defective BRCA2 gene has only approximately 6% chance of eventually developing breast cancer and just over 1% with BRCA1. Although, a female child of a man with breast cancer who inherits the defective gene has a risk between 40% and 80% of eventually developing breast cancer. 
Breast cancer is as common as 200,000 cases per year. The average survival rate according to Cancer.net, for a 5 year survival rate being 90%, and a 10 year survival rate being an 83% survival rate. If the cancer is only located in the breast, the 5 year survival rate will rise to 99%, with 62% of people being diagnosed with this stage. If the cancer spreads a distant part of the body, the person has a 1/4th a chance of survival.
Helping someone by donating to a GoFundMe, or even spending time with patients in need. Anything you can do to help as we celebrate breast cancer survivors.