iPhone 11
Apple Releases Newest Version of the iPhone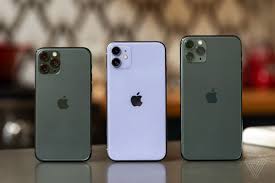 On September 20, 2019, Apple Co. released their newest addition of the famous iPhone to the public. The phone was titled the iPhone 11 and features both a regular and "Pro" version.
Apple has been consistent with releasing new innovative and easy to use technology. Apple was founded on April 1, 1976, in Cupertino, CA. According to Cultofmac.com, the founders of the tech company include Steve Jobs, Steve Wozniak, and Ronald Wayne.
One of the biggest controversies surrounding the phone is the use of multiple cameras. Apple claims the cameras provide a better photo-taking experience for users, this addition also makes the new phone look more "unique." 
"I think the cameras make it look cool, plus the pictures on it are great," said junior Kyle Sendelbach 
The new phone also has many new features besides multiple cameras. According to Macrumors.com, a few of the new additions to the iPhone 11 include a ""6.1″ Liquid Retina display, Night Mode, Dolby Atmos, more durable glass, and new colors."
As the technology market increases expectations Apple will continue to deliver and impress. The release of the new phone has only led to even more questioning on what the next iPhone could bring to the table. According to Apple, the iPhone 11 is marked at $699 for the basic 64g version, prices vary depending on model and storage.