Manitoba Snowstorm 2019
Homes Lose Power After Manitoba Snowstorm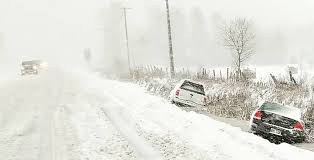 Canadian residents living in Manitoba have been hit by an early snowstorm.  The storm hit on October 10 through 11. According to CTV News, nearly 21,000 Manitoba residential homes and businesses have been without electricity since the snowstorm hit.
A blast of heavy, wet snow began pummeling much of the province on Thursday, October 10,  and continued into Friday, October 11.  More than a quarter of a million people lost power at some point as the slushy snow brought down tree limbs and power lines. Premiere Brian Pallister, who is the senior representative of Manitoba's government,  announced a state of emergency, which allows Hydro crews, who restore electricity and water to homes across Manitoba, to access private lands much easier than before. It also allows Manitoba to request help from other provinces and states such as Ontario and Minnesota. Hydro crews expect the cost to restore the power and water into all of the homes to be roughly 100 million dollars.
"We're optimistic as we see the number of houses that are having power restored go up and the number of that don't have power go down, " Pallister said. 
Only about 80% of damaged areas have been assessed. "In some areas we have more lines and poles down than standing , " Jay Grewal, Manitoba's Hydro chief executive officer said on Sunday. "Our crews are out there working hard, 16 hours a day, doing their best to restore the power. " A news release from the utility said it will take days to repair the damage.
Several First Nations have begun evacuating the elderly and other vulnerable people into a Red Cross emergency shelter in Winnipeg. The provincial government has asked all residents to avoid non-essential travel. The City of Winnipeg said it could be months before an estimated 30,000 city-owned trees that were damaged can be fully cleared from public spaces. Residents of the city were even advised to not flush their toilets, as the sewer system was running on a backup power system. Portage La Prairie was among one of the hardest hitting areas, a city with 13,000 residents and has had large areas with no electricity since Sunday.