Marathon Madness
Eliud Kipchoge Breaks the two Hour Marathon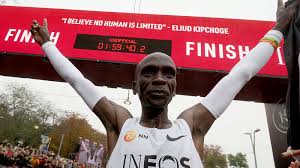 On Saturday, October 12, Eliud Kipchoge, a Kenyan distance runner and Olympic gold metalist, broke two hours in the marathon in Vienna, Austria. The 34-year-old finished in a time of 1:59:40, breaking the current world record of 2:01:39 set by Kipchoge himself, according to IAAF. However, this new time will not be counted as an official world record.
According to the Atlantic, the event was held by INEOS, a chemical and oil manufacturing company located in Britain. According to The Washington Post, Everthing about the run was engineered to give Kipchoge the best chance to break two hours. The run was scheduled in an eight-day window to ensure the best possible weather conditions. The course was a six-mile circut located in Vienna and was completely flat. Kipchoge was accompanied by a team of over 30 pacers that ran in a wind-blocking formation. Kipchoge and the pacers ran behind a vehicle that displayed his time and had a laser that showed the exact pace they needed to reach. Kipchoge was closely followed by a cyclist supplying him with an electrolyte beverage. According to Outside, He was also wore a new and unreleased pair of Nike shoes that are similar to the ZoomX Vaporfly NEXT%, a controversial shoe that is proven to reduce times. The current NEXT% shoes boost running economy by approximately five percent. It is unclear how effective the unreleased shoes are.
Because of these elements, this new record will not be official. Toni Reavis, a running comentator and critic of the race, said, "As much as they might like to present this as such, the first sub-2:00 marathon is not like the first sub-4:00 mile, or the first summit of Everest, much less the moon landing. All those challenges carried in the public consciousness the possibility of death. This is a second-chance marketing exhibition for a plastics manufacturer and springy shoes."
After the race, Kipchoge said, "I am the happiest man in the world to be the first human to run under 2 hours, and I can tell people that no human is limited. I expect more people all over the world to run under two hours after today."
According to Business Insider, Kipchoge's overall pace was under four minutes and 34 seconds for each mile.