The Big Three
The Big Three Record Breaking Women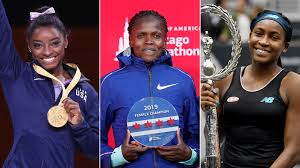 In the time gap of October 13-15, three  African and American women made history and set new world records. Simon Biles won her twenty-fifth medal, Coco Gauff is the youngest tennis player to win a championship and Brigid Kosgei ran a marathon in just a little over 2 hours time was a world record.
Simone Biles is the first gymnast to win 25 medals, the newest one being a gold medal, with the record previously being 24 medals. She earned this gold medal in a floor exercise at nationals, and she has earned the title most decorated gymnast. The previous record also being held by Biles.  Of Biles' 25 metals, three are bronze, three are silver, and nineteen are gold.
Coco Gauff is the youngest tennis player to to win a tournament. She earned her title in Austria at a WTA tournament, and defeated the final contender, Nicole Vaidisova, with the scores 3-6, 1-6, and 6-2, She did this at the age of fifteen, making her the youngest tournament winner and also a world record setter.
Brigid Kosgei ran the Chicago marathon, one of the best known marathons in America, at the time  of 26.2 miles in 2 hours 14 minutes and 4 seconds. She beat the previous record held by Britain's Paula Radcliff, who has held the record for 16 years beforehand. Only 1.6% of runners are African American according to Running USA's biannual Runners Survey.