Kings Island Says Goodbye to the Vortex
King's Island's Vortex Finally Shuts Down
On October 27, Kings Island's Vortex gave its final rides. Roller coasters of the same type as the Vortex usually last "25 to 30 years" (Cincinnati Business Courier). The Vortex, however, was around for 33 seasons before closing.
According to Kings Island, the Vortex has given over 46 million rides since it has been opened. Riders have also been flipped upside down more than 275,000,000 times. The Vortex is the seventh most ridden coaster in the theme park with its two vertical loops, one corkscrew, one 360-degree helix turn, and one boomerang turn.
On the final day, six members of the original crew took their last ride and posted a picture on Twitter with the caption "Members from the original Vortex crew in 1987 were on the train when the steel roller coaster gave its final rides."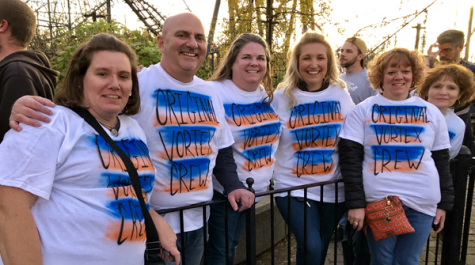 The ride closing sparked nostalgia in many of those who had ridden the Vortex, remembering their days spent riding the coaster.
"It got a little rough toward the end, but I'm sad to see this one go," said Twitter user Jacob Patrick in response to one of Kings Island's tweets about the ride.
The ride closing was announced on September 27 on the Kings Island website.