Shooting In Cincinnati
Cincinnati Shooting Kills Two, Leaves Many Others Wounded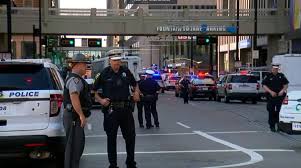 On November 1, 2019, there was a shooting in Cincinnati, Ohio. Over 35 people have died this year from various shootings. Two victims were killed during the shooting and 1 more injured. The two people killed were 15-year-old Ja'Quan Howard and 20-year-old Taymar Jones. Mykell Jones, 18, had a single gunshot wound to his foot and was taken to the hospital where he is now recovering. The shooting was identified to be an attempted robbery. About 10-12 people were in the room when the shooting took place. There had been a party on the fourth floor, which was claimed to be the reason the shooting occurred. 
This shooting comes months after the Dayton shooting. August 4th, 2019, there was a shooting in Dayton. A 24-year-old gunman had shot 9 people in 32 seconds,  (TIME) says " In that time, six Dayton police officers were able to respond and open fire,  killing the shooter as he tried to enter a packed bar."
According to FOX 19, there is no information available about the suspect,  the investigation is still at large along with the suspect.  "The police are saying that it was a failed jewelry heist. The police claim that there was another attempted jewelry heist. Cincinnati police states "The would-be thief tried using a hammer to break a display case at Stratford Jewelers. When that didn't work, he ran off without taking anything. No shots were fired, and nobody was hurt."
Ja'Quan Howard's uncle clark says "He was kind, a good boy. He just got invited to the wrong party." "Clark and other members of Howard's family said they are leaning on their faith and one another for support as they pointed to the large crowd gathered at the vigil as a testament to the impact Howard had on those close to him," said (WCPO.) The family says they are going to commemorate Ja'Quan on what would have been his 16 birthday. Ja'Quan Howard is the tenth teen killed in a shooting since May 2018.