Anti-government Protests in Chile
People of Chile Come Together In An Effort To Gain Social Equality
Chile has been in a state of disarray as protests have erupted all over the country as people fight for social equality. It all began as a student led protest against raising fare costs. In a response to these protests, Minister of Economy, Juan Andres Fontaine, said that people could arrive earlier and pay less. This outraged the protesters, and they began to jump pay fare turnstyles. It then evolved into protests over the cost of high living, according to Aljazeera.
The hotspot for the majority of the protests has been in the countries capital, Santiago. There, protesters have been met with tear gas, water cannons, and rubber bullets. The majority of protests have been peaceful, with thousands of people marching in the streets banging pots and spoons, a form of protest known as cacerolazo. However, these protests have not been without violence on the side of the people, with some looting stores, throwing petrol bombs, and attacking police.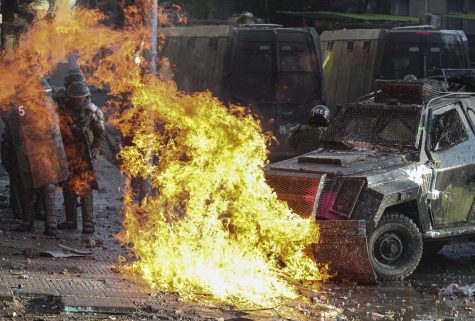 The entire country has felt the effects of these demonstrations, with dozens of roads and subways being closed. Schools, government buildings, restaurants, and other business's have all closed in Santiago. In the southern city of Concepción, a government building was evacuated due to a fire that sprung from protests. In the north, the city of Antofagasta was brought to a standstill after barricades were placed on busy roads. The national currency is also at an all time low, according to the Washington Post.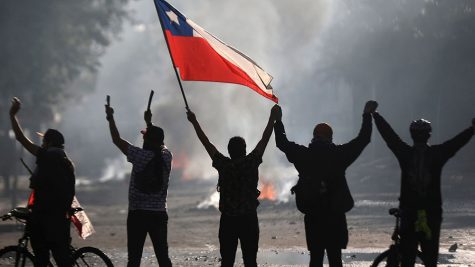 Not only have the people and government been clashing physically, but also ideologically. Silvia Silva, a protester in Santiago, said the strike was "historic" and one that "will mark a before and after in our country." The people of Chile have been pushing for a new constitution to be written with input from the public to ensure equality. However, Karla Rubilar, a government spokeswoman, announced "A strike is not the road forward."
What began as a simple protest against a $0.04 increase in transportation fare has evolved into a national movement in which the people are fighting for their civil rights, and hoping for an equal government in Chile. Since protests began at least 18 people have died and thousands have been injured, according to CBS.