Lower Report Card Grades
Local Schools Received Lower Grades For Last Year
Overall, school districts in Ohio have received higher consecutive scores on their report cards for the 2018-19 school year, but 15 local districts have seen their grades drop, including Northmont. Only five local districts have seen their grades rise.
For the second time, schools and districts received an overall letter grade. This grade was calculated using results from six "components" — achievement, progress, gap closing, improving at-risk K-3 readers, graduation rate and prepared for success (Dayton Daily News).
Some of the largest school districts in the Dayton area including Lebanon, Springboro, Kettering, Beavercreek, and Centerville, each received an overall "B" from the Ohio Department of Education; Troy, Northmont, Miamisburg and Fairborn received a "C"; and West Carrollton, Huber Heights and Xenia got a "D" (Ohio School Report Cards).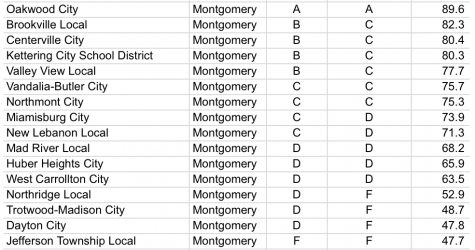 Surprisingly, Brookville joined with Centerville in receiving all "A's" on their report card, despite this spring's Memorial Day tornados that destroyed the school's roof. Brookville was among the 40 districts in Ohio to receive straight-A's on all parts on the "student progress" component on the report card from state tests.
Brookville School's superintendent Tim Hopkins said "You have to be dedicated to hard work and content. We set goals every year, align instructional practices that we think support those and then put our heads down and work hard.We have parents who want their kids to do well in school, staff who work extremely hard, and a lot of credit should go to the kids, who do their best every day."
However, Adam Voight, director of Cleveland State University's Center for Urban Education, says "Schools with more disadvantaged (poverty or disability) students perform worse, and this has little to do with anything happening in the school."