Cincinnati Zoo Announces Birth of Giraffe Calf
Cincinnati Zoo and Botanical Garden Announces the Birth of a New Giraffe Calf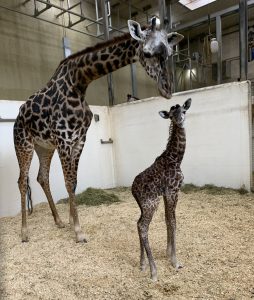 The Cincinnati Zoo and Botanical Garden announced the birth of a giraffe calf on November 22. The calf was delivered shortly after 6 am, by 8-year-old giraffe Cece. Cece went into labor at around 5 am. The staff says that Cece and the new baby are doing well. The giraffe calf is already 6 feet tall, however, the gender and a name for the calf have yet to be determined.
"We're all sad that Kimba (the calf's father) isn't here to meet his seventh calf but thankful that he made such an important contribution to the survival of the species," Cincinnati Zoo's Curator of Mammals Christina Gorsuch said in a news release. "This baby, and 5-month-old Fern, will ensure Kimba's lasting legacy."
The birth of the calf marks the seventeenth giraffe born at the zoo since it first opened in 1889. In the wild, 75% of all news calves born will die in their first few months of life, mainly due to predation. In 2018, giraffes were listed as "Vulnerable" on the IUCN's Red List. Giraffe populations are suffering from habitat loss, trophy hunting, illegal poaching, and war-stricken habitats. The birth of the calf helps insure that the population of giraffes continues to increase.
The zoo plans to make an announcement of when the calf can be expected to be viewed by visitors to the zoo. For those who are interested in visiting the zoo, it is open everyday from 10 a.m. to 9p.m. The zoo will only be closed on December 25.