College Football Playoffs Annouced
The College Football Playoff Committee Finalizes Rankings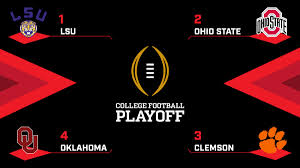 For the first time since 2016, the Ohio State Buckeyes will be in the College Football Playoffs. In 2015, the Buckeyes won the National Championship, that being the first time since 2002. 
The Buckeyes, on December 7, beat Wisconsin in the Big 10 Championship, coming back from a 21-7 deficit going into the last half. Ohio State came back to win 34-21, scoring 27 points in the 2nd half. However, the LSU Tigers took the #1 spot after destroying then #4 Georgia 37-10 in the SEC Championship. Ohio State would fall to #2. 
The (13-0) LSU Tigers will end up playing the Big 12 Champions, #4 Oklahoma Sooners, in Atlanta in the Chick-Fil-A Peach Bowl. The (13-0) Buckeyes will travel to Glendale, Arizona to face the also (13-0) #3 Clemson Tigers in the Fiesta Bowl. Both semifinal games will take place on December 28.
The last time Clemson and Ohio State met, Clemson destroyed Ohio State 31-0 in 2016. Clemson would advance on to win the National Championship that season. Ohio State have a 0-3 current record against Clemson and now have an opportunity to improve that record, according to Winsipedia. This would be Ohio State's 3rd shot in the playoffs, according to the CFP.
It's been a while since LSU has played Oklahoma, last playing in 2004, in which LSU won. The last time they've played before that was in 1950 and Oklahoma won, according to Winsipedia. So, this game would break the (1-1) tie. Oklahoma would arrive in their 2nd straight trip to the playoffs, being they're 3rd overall. 
Both teams who win their respective games will face off in the National Championship on January 13, in New Orleans. The odds are predicting an LSU/Clemson matchup in the National Championship, according to The Score. This would be the first time LSU has made it to the college football playoffs, according to KFOR, but it would be Clemson's 5th straight trip to the playoffs, according to the CFP.