Hueston Woods Lodge Renovation
3.3 Million Dollar Renovation Coming to the Lodge at Hueston Woods
Recently, the state of Ohio approved a 3.3 million dollar renovation on Hueston Woods' Lodge. The money is being used for funding upgrades, including replacement of the roof, exterior work, and minor structural repairs. According to a request from the Ohio Department of Natural Resources, "The existing roof is beyond its useful lifecycle and is exposing the building to water infiltration and damage, (ECB)."
Hueston Woods is located five miles north of Oxford at 5201 Lodge Road in the village of College Corner. It's one of the region's most popular parks, bringing in more than 1.6 million visitors in 2013 (Journal-News).
The lodge was opened on October 8 of 1967, and hasn't seen a single upgrade since then, other than a front entrance being built in 1991.
All work invested in the project is scheduled to start in this coming spring and be completed by mid-October 2020, according to ODNR (Dayton Daily News).
State Rep. J. Todd Smith, R-Farmersville, says that he's appreciative of the State Controlling Board's support for such local projects as this. He told the news outlet(EDIT: What is "the news outlet.") "I'm happy to work hard and bring state resources back to our district for the benefit of our residents. Investing in our public lands will help to provide quality recreational opportunities for generations to come."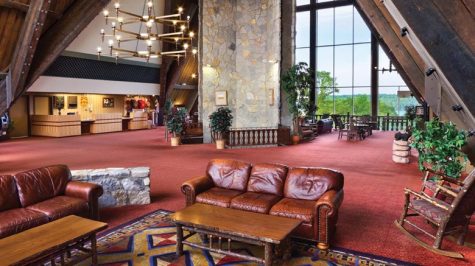 Even though the lodge is going to be renovated, it is still going to keep its rustic log cabin feel to it that was quoted to be "the showcase of Ohio" by 1967 Ohio Gov. James A. Rhodes. (EDIT: Delete this conclusion. End in a statistic.)