BREAKING NEWS: Everything You Need To Know About The House's Meeting
The Congresswomen and Congressmen met to talk about the impeachment Here's everything that you need to know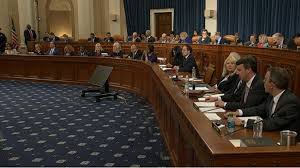 The Congresswomen and Congressmen had a 13 hour meeting yesterday, December 12, about the Trump impeachment. There are 4 main takeaways from this that people need to know.
No Vote: According to CNN, following the 13 hours spent debating amendments to the articles of impeachment, House Judiciary Committee Chairman Jerry Nadler decided to forego a vote to move the articles to the full House until 10 a.m. Nadler's decision was derided by Republicans on the committee, particularly Rep. Doug Collins. "Words cannot describe how inappropriate this was," Collins said, adding that he was taken by complete surprise by the decision.
Republican amendments rejected:  A total of five amendments to the articles of impeachment were introduced Thursday and all were voted down. One of the amendments wanted to replace the mention of former vice president Joe Biden with his son Hunter Biden and Burisma in Article 1.
The GOP blasts the impeachment process: Republican Rep. Matt Gaetz said that the impeachment debate "just lacks a certain sincerity" this morning, adding that, "If I'm watching at home I'm thinking, 'well where are they in the impeachment?' That is just a Democrat drive-by, to go and list crimes that you don't allege and that you don't have evidence for."
About the presidents middle name: Nadler introduced an amendment this morning to change references of "Donald J. Trump" to "Donald John Trump" in the articles of impeachment. Collins said the amendment showed the "absurdity" of impeachment.
The meetings about the impeachment are expected to continue into the rest of this week.