Ravenna Boy Donates $100 To Police Department
A Donated $100 to Ravenna Polic Departments 'Shop With a Cop'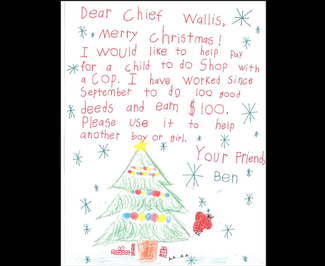 On Friday December 6, a little boy by the name of Ben donated $100 to the Ravenna Police Department. Ben earned this money from September to December from doing "100 good deeds." Many have wanted to do something for the kind hearted boy, but on his letter he signed it "Ben" so people don't have a way to find him.
According to  Cleveland.com,  Ben wrote in his letter, "I have worked since September to do 100 good deeds to earn $100." He also said, "I would like to help pay for a child to do Shop with a Cop."
Ravenna Police Department hosts an event called "Shop with a Cop" where around 100 children, who are less fortunate, get to spend the day with a cop, go to a store, and spend $100 on what they want. 
Many people in the Ravenna Community and all over Ohio reacted immensely when the Police Department posted about it on their Facebook Page. Many have been leaving Ben kind comments. 
According to 10tv.com, one person wrote, "It is great to know that there are young people like him, in our community, who are compassionate and care about helping others. Great job Ben!"
 Many want him to know that what he did was amazing and he is wonderful due to the fact that things like this are becoming less common.