BREAKING NEWS: Donald Trump Becomes 3rd President to Ever be Impeached
The House Approves Two Articles of Impeachment
President Donald Trump was impeached Wednesday night for abuse of power and obstruction of congress. House members came to a vote last night after hours of polarizing debates.
According to The NY Times, Trump was charged with abuse of power over his earlier scandal contacting the president of Ukraine in an attempt to obtain knowledge about his democratic opponents. The vote ended 230 to 197, finding Trump guilty on that article of impeachment.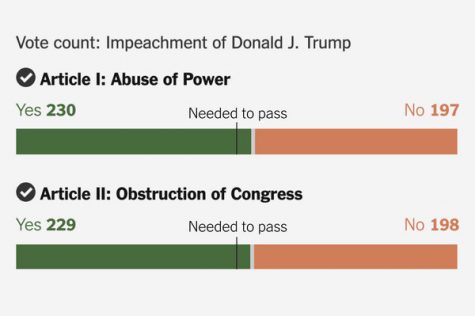 The trial in the Senate, that will decide whether to remove him from office or not, is expected to occur sometime in January. However, a two-thirds majority vote is required for that, and it seems unlikely he'll be charged in the Republican-majority Senate. Regardless of whether or not he is removed, this impeachment will leave a permanent mark on his presidency that the American public won't soon forget.
Minutes before his impeachment, he stood before a crowd in Battle Creek, Michigan, claiming that his impeachment was all a "hoax". He later went on to say," It doesn't really feel like we're being impeached. The country is doing better than ever before. We did nothing wrong. And we have tremendous support in the Republican Party like we have never had before. Nobody has ever had this kind of support."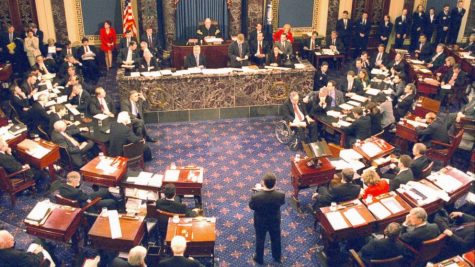 Throughout the debates, both sides accused the other of either turning a blind eye or falsely accusing. The debates were mostly civil, and order was maintained. However, Rep. Barry Loudermilk of Georgia said Jesus got a fairer trial from the Romans than Trump got from the House. Claiming, "When Jesus was falsely accused of treason, Pontius Pilate gave Jesus the opportunity to face his accusers."
In the entirety of our countries history, only 3 presidents have been impeached. However, none of them were removed from office. Although, this statistic could change soon if he is found guilty in the Senate.