Harvey Weinstein Charged with Sexual Assault and Rape
Harvey Weinstein Charged in Los Angeles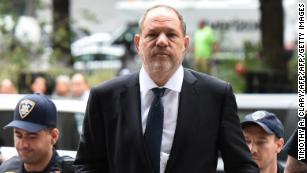 As of January 6, Harvey Weinstein has been charged in Los Angeles, California with sexual assault and rape. According to CNN, these charges came hours after Weinstein appeared in a New York court for the start of his criminal trial on similar charges in a separate case. Weinstein now faces multiple felony charges, Los Angeles County District Attorney Jackie Lacey said in a statement to the press.
"We believe the evidence will show that Weinstein used his power and influence to gain access to his victims and then commit violent crimes against them," Lacey said.
According to The New York Times, Weinstein and a woman attended a Hollywood film festival on February 17, 2013 and, later that night, he knocked on her hotel room door and he was allowed to enter her room. Once he was inside, they talked briefly before he allegedly attacked the woman and raped her. The complaint said that she didn't talk about the assault because he threatened her life if she said anything about it. The new charges are related to this incident.
In a different incident, on February 19, 2006, Weinstein met with a woman, Mimi Haleyi, and her acquaintance for a business meeting at a hotel eatery in West Los Angeles. Weinstein persuaded the two to accompany him to his hotel suite, and one woman unwittingly followed him into the bathroom. Weinstein faces a charge of felony sexual battery by restraint for this incident.
Weinstein has denied all allegations of "nonconsensual sexual activity" related to the New York case and other claims made against him. In an earlier interview, Weinstein attorney Donna Rotunna said any new charges would be "highly prejudicial" to a jury in the New York case.
In the newer LA case, the two victims reported these incidents to police in 2017, and they were presented to the district attorney's office for criminal charges later that year. Lacey said that the charges were announced today, years later, because of the challenge of the specific cases.
Neither of the two women have previously come forward with their allegations, and one is expected to testify in the New York case, the prosecutors say.  CNN also reported that The Los Angeles County District Attorney's Office had previously said that eight women had come forward against Weinstein.