DID YOU KNOW?: Policeman Shoots and Kills 12-Year-Old Tamir Rice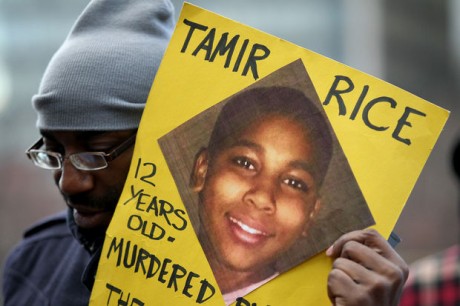 On November 22, Tamir Rice, 12, was shot and killed by Cleveland police.
Rice was seen playing outside at the Cudell Recreation Center Park with a toy gun when a man in the park called the police.
The dispatch call reported a man pointing a gun in the park.
The caller reporting Rice told dispatchers twice that the suspect was probably a kid and that his gun was probably fake. This information was never relayed to the responding officers.
Rice's gun was missing the orange tip that should be on all toy guns.
Two officers arrived on the scene as Rice walked out of the gazebo he is sitting in.
The police officer, Timothy Leohmann, shot Rice within 2 seconds of encountering him.
First aid was not administered to Rice until about 4 minutes later, when a FBI agent working nearby arrived on the scene.
Rice died on November 23.
The officers' actions are being investigated, according to the spokesman of Mayor Frank Jackson. Both are on administrative leave.
The video of the shooting was made public by request of Rice's family.
The tragedy has only added fuel to the fiery debates about racial profiling and police brutality.
Sources: CNN News, Cleveland.com