Australian Heat
Bushfire Are Rapidly Eating Away At Australia
After record-breaking high temperatures combined with severe drought conditions, Australia has seen one of its worst fire seasons yet.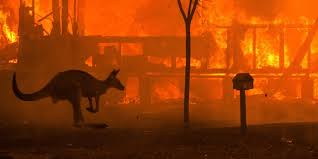 Since the early 1850s, bushfires have had an extensive impact on the Australian ecosystem. These roaring flames are accountable for causing vast amounts of property damage and claiming the lives of more than 800 people in addition to millions of animals.
In September of 2019, Australian cities, Queensland and New South Wales flames started beginning and continued well into 2020. Following that event, over 100 more fires have devastated the Australian southeast, killing at least 17 more people. Australia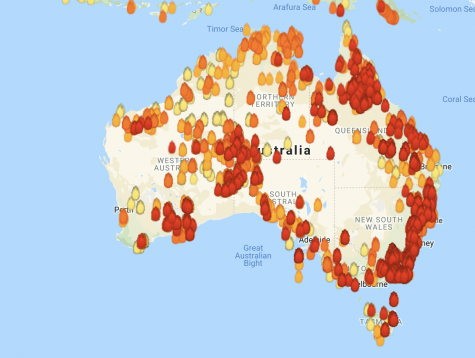 currently has the highest rate of species loss after the burning of nearly 18 million acres. Most of this land was bushland, forests, and national parks. Nationwide, the true number of impacted wildlife may be as high as one billion organisms, according to Christopher Dickman, a leading University of Sydney ecologist.
Here's a map from Western Australian researchers showing the nations numerous wildfire hotspots as of Wednesday, January 1st, 2020. 
"The smoke darkens the sky and it was said on the news that if you spend over 8 hours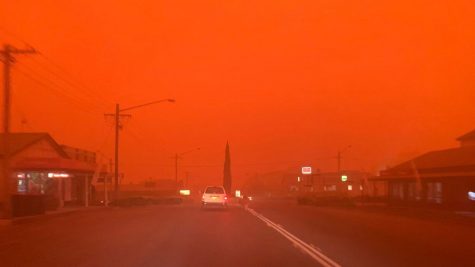 outside, it's equivalent to smoking 100 cigarettes," says Kane Davies, a resident of Maroubra, Sydney, NSW. "The firefighters have been working nonstop trying to desperately defend their homes and livestock from fire blazes over 10 feet tall."
There are various conflicting theories as to what started this outburst of numerous flames, but nothing is proven yet. However, since November 8, 2019, authorities have taken legal action against 183 people for fire-related offenses. This includes 24 individuals who have been charged with allegedly starting bushfires. That charge is punishable for up to 21 years in prison. After the total fire ban was issued, people have been arrested for many fire related problems like improperly discarding lit cigarettes or matches, according to ABC News.
Other popular theories are natural causes. Many believe that climate change has a part to play. Bushfires can begin with a lightning strikes and continue to thrive due to extreme temperatures and dry conditions. With all of the confusion, the cause could very well be either reason or both.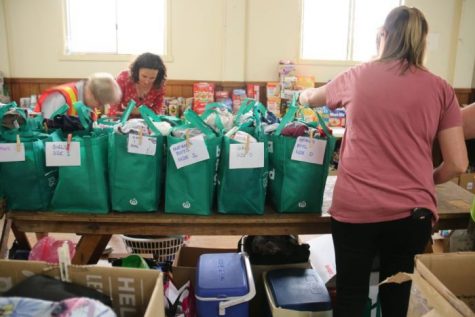 The Insurance Council of Australia reports that the damage bill has reached an estimated $485 million, and it's still growing. Many people, including celebrities, around the world have stepped forward to donate to fundraisers. Fundraisers and food drives are all working to provide Australia with any relief possible. Many countries are sending firefighters to help assist in the flame control. Australia is receiving many helping hands and volunteers. However, this doesn't mean that suffering and risks of danger have ceased as the fire rages on.
Scott John Morrison, Prime Minister of Australia since 2018, took a pre-Christmas trip to Hawaii while the flames continued to grow. While he was away, two volunteer firefighters lost their lives. Due to Australia's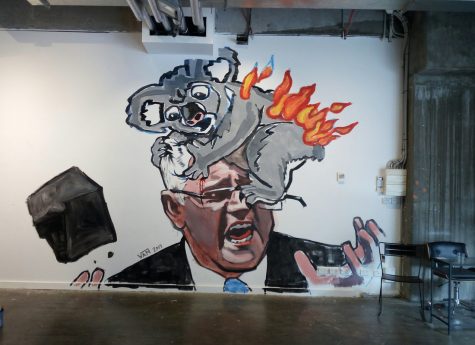 leader going MIA during moments of crisis, Morrison has faced vast amounts of backlash and criticism from citizens. Many Australian residents feel disappointed or unsatisfied about the Prime Minister's means of supporting the cause. "I have obviously returned from leave and I know that has caused some great anxiety in Australia and (my wife) Jenny and I acknowledge that," Morrison stated a CNN's news conference.
Climate change may or may not have a direct cause to Australia's wildfires, but the two are definitely assisting one another. The extreme temperatures of climate change along with the drought creates the dry fuel necessary for the flames to spread. Wildfires in turn, emit carbon dioxide and other greenhouse gases that continue to increase the planet's temperature. The burning of trees decreases the removal of the atmosphere's CO2 levels, and fossil fuels adds even more pollution after decomposing from the flames, states Inside Climate News. As Australia blazes continue to grow, this could continue to leave devastating impacts on the country and the world itself.
Leave a Comment