The $10K Scream
Richmond FBI Offers a $10,000 Reward for Information Leading to the Arrest of the "Scream Bandit"
A $10,000 reward from the FBI is up for grabs to anybody that has information leading to the apprehension of the armed 'Scream Bandit.'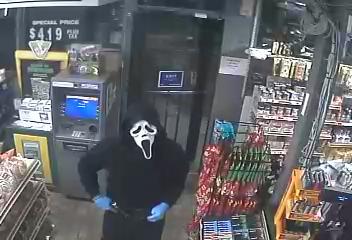 A masked robber has wreaked havoc across half a dozen Richmond, Virginia commercial gas stations in the past year, according to the Washington Post. The serial stickup artist wears the mask of "Scream," the infamous antagonist from Wes Craven's popular slasher-film franchise. 
The Scream Bandit's first recognized strike took place on January 19, 2019 when he revealed a semi-automatic handgun and demanded money from the clerk of a BP gas station. After his bag was filled, the bandit made off with the store's money. That following month, the Scream Bandit held up a Speedway Gas Station in North Chesterfield, but fled after his attempt failed. As the clerk began to chase him into the parking lot, the bandit fired shots back at the worker states the FBI's wanted poster. No injuries were reported.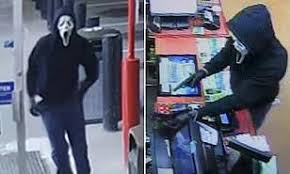 His most recent crime was last month, on January 26, 2020, at a Goldy's Gas Station in Richmond. After flashing his gun and demanding for the money, he shoved the clerk before moving behind the counter himself. The suspect then flipped the cash register over and snatched the additional money underneath it, alleged the FBI. The Scream Bandit fled the scene on foot, and hasn't been spotted since then.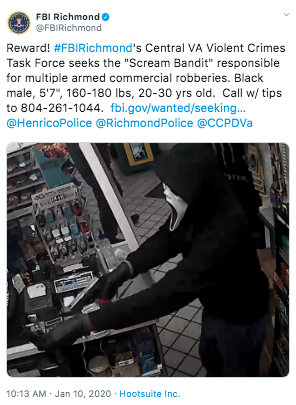 The subject has been described as a black male, 160-180 pounds, approximately 5'7" to 5'10" tall, and assumed to be 20-30 years old. Aside from his distinguishing "Scream" mask, the suspect wears all black clothing with black or blue gloves. The FBI states that he should be considered armed and dangerous. They also urge citizens not to approach this individual if seen or identified, instead call the FBI's Central Virginia Violent Crimes Task Force at 804-261-1044 or provide tips via tips.fbi.gov.