BREAKING NEWS: Man Charged With Attempted Murder in New York
Man Who Shot and Injured Two NYPD Officers has been Charged with Attempted Murder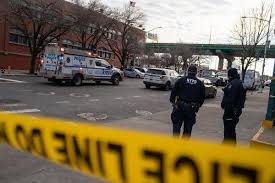 On February 8, a gunman fired into a patrol van with two NYPD officer inside. In the process, one of the officers was wounded in the apparent assassination. The attack happened just before 8:30 pm in the South Bronx.
The officer at the wheel of the van was grazed in the chin and neck, but avoided serious injury, Police Commissioner Dermot Shea told the New York Times. He was expected to be released from the hospital Sunday. 
"He's lucky to be alive," Shea said. "He is expected to make a full recovery and it is a miracle."
The two uniformed officers were sitting in their van with emergency lights activated when a man approached them and engaged them in conversation, Shea said. The man asked the officers for directions, then pulled out a gun "without provocation," the commissioner said. The man fired multiple shots, striking the officer behind the wheel. 
According to the Washington Post, Shea said that the alleged shooter has a "lengthy violent criminal history." He was paroled in 2017 after serving more than a decade in prison on an attempted murder charge, she said.
The attacks were a grim reminder of past shootings in the city in which officers did not survive, the commissioner said. The average amount of police officers killed in the line of duty is expected to be around 106.